In Memoriam : Juanita Chambers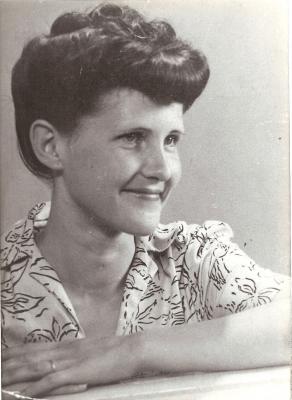 Juanita Fay Chambers - age: 81
(October 29, 1928 to June 12, 2010 )
Resident of Exeter, California

Visitation Information:
Visitation will be held on Thursday, June 17, 2010 from 2:00 to 6:00 PM at Evans Miller Guinn Exeter Chapel. Graveside Services will be held on Friday, June 18, 2010 at 2:00 PM at the Exeter Public Cemetery District.

Obituary:
Juanita Fay Chambers was born in England, AR to Cordie Lee and Lela Jane (Polk) Pendleton on October 29, 1928. She came to California in 1948 and then moved to the Strathmore area in 1977. She was a member of the United Pentecostal Church and worked as a housekeeper the Memorial Hospital at Exeter for 28 years. Juanita enjoyed working, her home and doing yard work. She had a special love for all of her grandchildren. She is preceded in death by her parents and two sisters.
Juanita is survived by one son, Richard Wolverton of Visalia; four daughters Arlyna Stewart of OR, Loretta Wadlow of TX, Betty Jean George of MA and Sandra K. Garner of Exeter; two brothers Cordie Lee Pendleton Jr. of San Jose and Robert H. Pendleton of WA; one sister Irelene Ellison of Exeter. She is also survived by 8 grandchildren and numerous great grandchildren, great-great grandchildren and one great-great-great grandchild.





---




Betty Wolverton-George

- June 15, 2010 Contact this person


Our Dear Sweet Mother has gone before us to Heaven so when we arrive, she will be there to greet us with her loving arms. My heart is broken.....I/we Love you Mother, Betty Jean and David




---




Miriam Adkins

- June 16, 2010 Contact this person


I MISS YOU AND I CAN NOT WAIT TO SEE YOU AGAIN I MISS SITTING AND TALKING TO YOU I USED TO DROP BY TO SEE YOU AND THEN I WOULD TALK TO YOU AND END UPBEING LATE WERE I WAS GOING BUT IT WAS WROTH IT TO HAVE TIME WITH YOU I LOVE YOU AND ALL YOU DID FOR ME I WILL NOT FORGET THE THING YOU TOLD ME I COME FORM A LONG LINE OF STRONG WOMEN I LOE YOU AND I KNOW WE MEET AGAIN.




---




Julie Wadlow

- June 17, 2010 Contact this person


Grandma... I will carry you forever in my heart. With every visit you left a lasting impression that will continue to contribute to who I am and where I am going. I never doubted your love for each of us and hope that you were always aware that you had family in Texas that loved you dearly. Although our stories are different, we share a commonality in some of the struggles we faced. Thank you for being an example to follow.




---




Annie Ridings

- June 17, 2010 Contact this person


I will forever miss you. You were a light in my life. I really enjoyed every visit from you and always wished that i could see you more often. I guess when I reach those golden gates someday you will be there to greet me, then we will be able to visit for ever. I love you so much, this isn't goodbye it's see ya later.




---




Shirley Ince

- June 18, 2010 Contact this person


Those we love are never forgotten, and, my dearest friend Juanita, you will never be forgotten. Praying you all have the peace of god, the comfort of His Spirit, the hope of His promises, and the joy in the gift of your memories now and always. May Your unfailing love rest upon us, O Lord. Psalm 33:22 Thinking of the families with LOVE and prayers, Shirley Ince




---






Click to Enlarge