In Memoriam : Richard Womack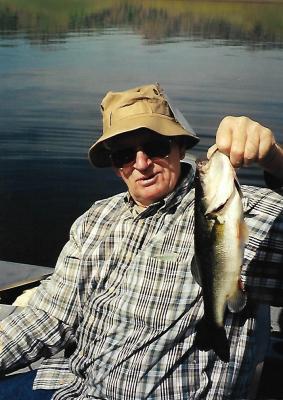 Richard Elige Womack - age: 83
(March 25, 1937 to August 07, 2020 )
Resident of Farmersville, California

Visitation Information:
A Graveside Service will be held Monday, August 17, 2020 at 10:00 AM located at Exeter District Cemetery.

Obituary:
Richard Elige Womack of Farmersville, California, passed away peacefully with family on August 7, 2020 from natural causes at Kaweah Delta Hospital. Richard was the youngest child of William and Annie Womack born March 25, 1937 in Story, Arkansas. The family soon moved to California where Richard spent most of his childhood. It was here that he met and married the love of his life Bonita "Yvonne" Petty on March 27, 1964. Their marriage was blessed with much happiness as well as two children Richard "Darrin" Womack and Heather Sue Fisher.
Richard worked for Sequoia Pacific Paper Company for 30 years where he performed his duties as a machine operator. He enjoyed hunting, fishing, camping and was a lifetime member of the NRA…he always had a good story to tell you no matter if you were sitting around a campfire or on the couch at home. He also enjoyed wood working and being a handyman to anyone in need. He enjoyed coaching and had coached Pee-Wee and Little League baseball for several years for the City of Farmersville.
Richard is survived by his wife of 56 years, Yvonne Womack, his son Darrin Womack (Michelle) of Minnesota and his daughter Heather Fisher (Danny Jr.) of Visalia, his grandchildren Ethan and Bridget Womack and many in-laws, nephews, nieces and grand nieces and nephews. Richard is preceded in death by his parents, his sister Ruby Harlan, brothers Victor and Kenneth Womack.
The funeral services will be grave side at the Exeter District Cemetery on Monday August 17th, 2020 at 10:00 am. Funeral arrangements are being handled by Evans Miller Guinn Exeter Chapel. Condolences may be sent to the family at www.evansmillerguinnchapel.com. Services entrusted to Evans Miller Guinn Chapel.





---




Vicki Aldridge

- August 17, 2020 Contact this person


Dear Yvonne, Darrin, Heather & family, We were so sorry to hear the news of Richard's passing. We will always remember his quiet, peaceful & kind hearted nature. You are in our prayers. God Bless you all. Love, Patsy (Phillips) Johnson and Cres & Vicki (Phillips) Aldridge and family - Placerville, California




---






Click to Enlarge