In Memoriam : Brenda Lovell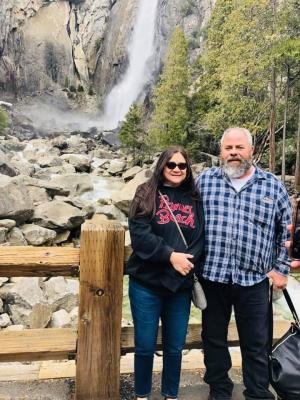 Brenda Faye Lovell - age: 63
(September 09, 1957 to October 02, 2020 )
Resident of Exeter, California

Visitation Information:
A Graveside service will be held Friday, October 9, 2020 at 2:00 pm located at Exeter District Cemetery.

Obituary:
Brenda Faye Lovell, a stay at home wife and mom, was unexpectedly called to her final resting place on October 2, 2020 and is reunited with her dad, Mel.
Brenda is survived by her husband Danny, her children: Matthew, his wife Kara of Vilonia, AR, Janna, her husband Isaac of Exeter, CA, Jennifer, her husband Kevin of Tulare, and her 10 grandchildren: Jake, Madysen, Julianna, Heidi, Harlow, Myles, Jade, Kevin Jr, Keith, and Karter. She is also survived by her mother Neoma, her 3 siblings Beverly, Lillie, and Melvin, and many beloved nieces, nephews and close friends that were considered family.
Brenda was born September 9, 1957 in Madera, CA to Mel and Neoma Fernandez. She attended Exeter Union High and graduated class of 1975. She met the love of her life, Danny Lovell, and they married in December 1979.
Brenda was a devoted mother and wife. In her younger years she bowled, and played bunco. As she and her children grew so did her hobbies. Brenda loved spending quality time with Danny. If it involved her children or her grandchildren she was there, or sending all her love. Her greatest joy was making sure that her grandchildren were happy. Brenda looked forward to going on their yearly family vacation because she knew it brought all of her children and grandchildren together. She enjoyed her breakfast and lunch dates with her sister Lillie and their lifelong friends at the local Whistle Stop or The Runway Café. Brenda was always ready for a trip. Whether it was a daytrip to a volleyball tournament for a daughter or her granddaughters, or a weekend at the Mickle's Cabin in Cedar Slopes, she was always down for the ride or the driver.
Brenda never met a stranger. Anyone she met quickly became a friend of hers. She was her fathers daughter. Brenda lit up any room she walked into and made anyone and everyone feel welcomed. She was everyones adopted mother. Brenda's home was always opened to her friends, her childrens friends or even Danny's friends. It didn't matter who or why you were there and needed to be there, she welcomed you, and welcomed you as if you were her own.
Services will be graveside Friday October 9th, 2020 at 2 pm at Exeter District Cemetery. In leu of flowers, the family ask that donations be made to the Mel Fernandez Scholarship Fund. Condolences may be sent to the family at www.evansmillerguinnchapel.com. Services entrusted to Evans Miller Guinn Chapel.





---




Cassie Wenger

- October 7, 2020 Contact this person


We are so very sorry to hear about the loss of Brenda, and send you all our love from afar. From the first moment I met Brenda, she welcomed and loved us, no questions asked. Her generosity with love and friendship was striking, genuine and limitless -- a true inspiration. Her spirit was so infectious I can still hear her laugh, even though we haven't seen her in a few years. And I know we will continue to see and feel her spirit in Matt, Heidi and Harlow and for that we are very blessed. We love you, Brenda. We will miss you, and we are so very thankful for every day that we got to spend with you.




---




Margaret Harke

- October 8, 2020 Contact this person


Deepest sympathy to Brenda's family. Sending lots of caring and love to the family. Lifting you all up in prayer and trusting God to hold you close at this time. Richard and Margaret Harke




---