In Memoriam : Ama Eudy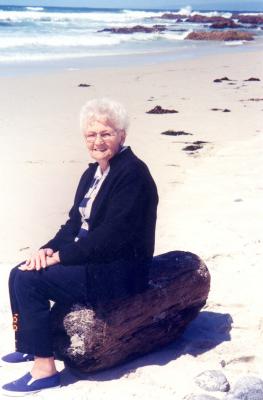 Ama M. Eudy - age: 95
(March 03, 1915 to July 08, 2010 )
Resident of Visaila, California

Visitation Information:
Visitation will be held on Wednesday, July 14, 2010 from 2:00 to 6:00 PM at Evans Miller Guinn Exeter Chapel. Graveside Services will be held on Thursday, July 15, 2010 at 10:00 am at the Exeter Public Cemetery.

Obituary:
Ama Marie Eudy was born to William J. and Maudie Mae (Camden) Arnold on March 3, 1915 in Kennett, Missouri. She attended schools in Missouri, Illinois and Arkansas. She met Richard Eudy in Arkansas and they married on March 1, 1930. They moved to Ivanhoe in 1949 then to Farmersville in 1975. She is preceded in death by her parents; her husband Richard; three daughters Helen, Lucille and Debora; two grandsons Terry and Travis; and siblings Herbert, Henry, Monroe, Stella and Hazel.
Ama is survived by daughters Billie, Joyce, Mary and Sandra as well as numerous Grandchildren, Great Grandchildren and Great Great Grandchildren.