In Memoriam : Mark Robb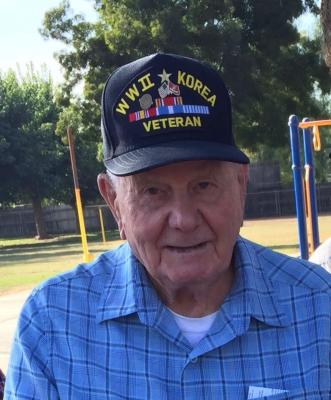 Mark Eugene Robb - age: 96
(December 14, 1924 to January 10, 2021 )
Resident of Three Rivers, California

Visitation Information:
A Graveside service will be held Friday, January 22, 2021 at 11:00 am located at Three Rivers Cemetery.

Obituary:
Mark Eugene Robb -Three Rivers, Ca. Went to be with our lord on Sunday morning January 10, 2021 at the age of 96. He is survived by his wife Dot Robb. Mark was born in Wentworth Missouri on December 14, 1924. He graduated from Diamond high school and then went on to serve our country during World War II in the army in the Pacific. After the war, he married Dot Robb on July 8, 1950. Two months later the Marien Corp re-activated him and he went to fight in the Korea war. After the Korea war Mark and Dot went on to start a family in Monett Missouri having three children, Delane Robello of Farmersville Ca. Mark Dwayne Robb of Visalia Ca., and Denise Bayens of Louisville Kentucky. In 1957, they moved to Sacramento Ca where Mark worked as a mechanic for FB Hart's. In 1965 Mark went to work for the California Highway Patrol in Visalia as a Motor Carrier Operation Specialist where he spent over 30 years working for them and retiring in 1986. After retiring Mark and Dot moved to Three Rivers Ca. Where they built their dream home. They continued their lives through square dancing, woodworking projects, restoring old automobiles, working on all kinds of different projects helping neighbors and the community. He was very proud in working with Comfort for Kids making quilts for children with cancer he was their chief sewing machine repairer. Mark was a hands on engineer. He could visualize something and build it. He would much rather build it himself then go to the store and buy it. Mark loved the lord and spent his life following the word of god. He called himself a non-denominational Christian attending the presbyterian church, Baptist church and Saint Anthony's Catholic Church in Three Rivers.
Mark is survived by his wife, Dortha Rae Robb. Children, Shirley Delane Robello (Mike Robello husband) Mark Dwayne Robb (Barbara Robb wife) and Denise Lynn Bayens (Robert Bayens husband) his Grandchildren Alan Rhinehart, Mark Rhinehart, Kambrya Rhinehart (Garett Worrell husband) Shannon Hammond (Chad Hammond husband) Justin Robb (Donna Robb wife), Melanie Figary (Will Figary husband), Alyisha Bayens and Great Grandchildren Christopher Rhinehart, Jana Rhinehart, Matthew Rhinehart, Dylan Rhinehart, Bayley Rhinehart, Katelynn Bradford, Riley Bradford, Paeslee Worrell, Reid Hammond, Bradley Hammond, Lilly Robb, Tessa Robb, Vivian Robb.
Graveside services will be held on Friday, January 22, 2021 at 11:00 am at the Three Rivers Cemetery. Services under the direction of Evans Miller Guinn Chapel.