In Memoriam : Betty Metheney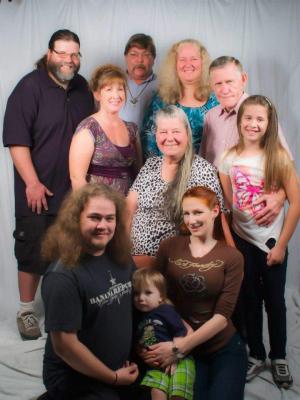 Betty Mae Metheney - age: 77
(September 06, 1943 to February 06, 2021 )
Resident of Exeter, California

Visitation Information:
A Graveside service will be held Thursday, February 18, 2021 at 2:00 pm located at Exeter District Cemetery.

Obituary:
On February 6, 2021, an angel was called home to heaven. Betty Mae Metheney died peacefully in her sleep at her home in Exeter surrounded by her husband and son. Betty lived 77 blessed years here on Earth.
Betty was born on September 6, 1943 to Ernest & Vada Brown in Camp White, Oregon. Her siblings included Joan Miller (Buck), Barbara Lamb (Dean), Ernest "Buddy" Brown (Charlene) and Edward Brown. The family spent time in Oregon before moving to Arizona. The family moved back & forth between Arizona & California working in Agriculture before moving to Missouri and eventually back to California to reside in Exeter, California for the remainder of Betty's life. Betty attended the Exeter High School. Betty met Lloyd Novele Metheney and was married on May 27, 1960 in Bakersfield, CA. Betty & Lloyd had 2 children. They ran the Red Barn fruit stand several years before selling. Betty enjoyed being a homemaker while Lloyd Sr worked as an Iron worker. They enjoyed traveling throughout California & the US, camping and visiting family. Betty was a wonderful cook and enjoyed sewing, jigsaw puzzles and attending family reunions. Betty & Lloyd celebrated their 60th wedding anniversary last year.
Betty is survived by her loving husband, Lloyd Metheney Sr., children Laura Metheney (Nat Bair) of Eureka, CA and Lloyd Metheney Jr (Susan) of Tulare, CA; granddaughters Ashley Bradshaw (Alan) of Las Vegas, NV and Haylee Metheney of Tulare, CA; great grandson Kaelen Bradshaw of Las Vegas, NV as well as many nieces and nephews, friends and neighbors.
Predeceased: Betty siblings, Joan Miller (Buck), Barbara Lamb (Dean), Ernest "Buddy" Brown (Charlene) and Edward Brown. Parents Ernest & Vada Brown.
Graveside services provided by Evans Miller Guinn Exeter Chapel will be held on Thursday, February 18 at 2pm at the Exeter Cementery.