In Memoriam : Governor Kenny Guinn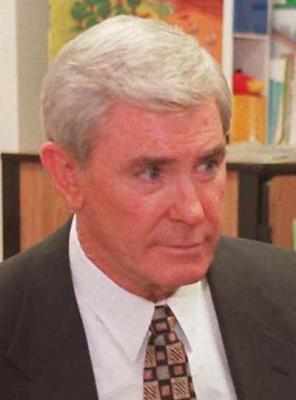 Governor Kenny C. Guinn - age: 73
(August 24, 1936 to July 22, 2010 )
Resident of Las Vegas, Nevada

Visitation Information:
There will be a Rosary/Vigil Service on Monday, July 26th at 7:00 PM at Saint Joseph Husband of Mary Catholic Church. Funeral Mass will be offered on Tuesday, July 27th at 10:00 AM at the church. Burial will be on Thursday at 10:00 AM at the Exeter Public Cemetery District.

Obituary:
Governor Kenny Carroll Guinn, 73, popular two-term Republican governor, died unexpectedly at his Las Vegas home July 22, 2010. Never having previously run for political office, he served 1999-2007 as Nevada's 27th Governor. He quickly developed a reputation as a tough, pragmatic leader more interested in helping Nevada than pushing a partisan political agenda. During his tenure, he successfully overhauled government operations, revamped budgeting and tax collections, created the Guinn Millennium Scholarship Program, oversaw privatization of the state workers compensation system, vetoed plans to bury nuclear waste at Yucca Mountain and became an expert on the Nevada budget. While Kenny vehemently opposed President George W. Bush on Yucca Mountain, they nevertheless enjoyed an enduring friendship. In 2005, Kenny was named by Time magazine as one of the five best governors in America. His own words from his 2001 State of the State Address explain his definition of success - "I believe we must measure success by how we are able to care for the most fragile of our citizens - our children, our elderly and those who are disabled. We cannot afford to do everything, but there are some things we can't afford not to do." To that end, he was most proud of the programs created during his tenure that helped those who needed it most. While traveling the state, Kenny heard stories of seniors who could not afford both medication and food. He created the Nevada Senior Rx Program to assist seniors with medication costs. Kenny and his wife, Dema, also lent their full support to the Nevada Mammovan program, providing mammograms and exams to the uninsured. They were also committed to promoting the Nevada Check Up program for children. When he took office, only 1,800 children were enrolled; and at the end of his tenure, there were 30,000. He was born to parents, Clifford and Virgie Guinn, Aug. 24, 1936, in Garland, Ark. His family moved Exeter, Calif., and in third grade Kenny met his best friend and partner in life, Dema Lee Lane. Kenny was a multisport star for Exeter Union High School, in football, basketball and swimming. A classmate's father, head of the local school board, helped Kenny get college-track classes in high school instead of the agriculture, wood shop and auto shop courses offered to most students. This led to Kenny's lifetime commitment to learning and his unwavering dedication to a strong public education system. His main interest remained his sweetheart, Dema, who he took to his senior prom and later married in Reno, in 1956. An honor student in high school, Kenny was awarded an athletic scholarship to USC and later transferred to Fresno State University, where he played football and basketball while earning a degree in physical education. He earned a master's in physical education at Fresno State, began doctoral studies at Stanford University and a doctorate in 1970 from Utah State. On May 22, 2010, Kenny was honored by the largest ever graduating class at Fresno State with an honorary doctorate. In 1964, Kenny and Dema moved to Las Vegas, where he joined the Clark County School District as an administrator. Five years later, he was named superintendent of CCSD. He left in 1978 to become a bank executive and later became chairman and CEO of Southwest Gas Co. He also served one year as interim president of UNLV, before seeking the governor's office. Education was always his priority. Kenny said, "Education is not on my agenda; education is my agenda." After his terms as Governor, he was a member of the Board of Directors of MGM Resorts and served on many charitable and community boards. Kenny was preceded in death by his parents. He is survived by his wife of 54 years, Dema; sons, Jeffrey (Monica) and Steven (Wynn); grandchildren, Blake, Austin, Colton, Hannah, Ryan and Sarah Guinn; brother, Chuck Guinn (Doris); and sisters, Shirley Blair (Jay) and Linda Rieke (Gary). A rosary will be at 7 p.m. Monday, July 26. Mass will be at 10 a.m. Tuesday, July 27, both at St. Joseph, Husband of Mary Catholic Church, 7260 W. Sahara Ave. In lieu of flowers, donations may be made to the Kenny C. Guinn Memorial Millennium Scholarship Fund, c/o State Treasurer's Office, 101 N. Carson St. #4, Carson City, NV 89701. Kenny never met a stranger, never turned anybody away and always believed that if you worked hard and treated people the way you wanted to be treated, you would never have a worry.