In Memoriam : Isaac Gonzales Jr.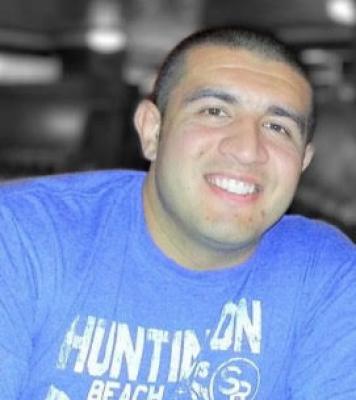 Isaac Chon Gonzales Jr. - age: 37
(June 08, 1983 to February 10, 2021 )
Resident of Stafford, California

Visitation Information:
Graveside Services will be held on Thursday, March 4, at 2:00 PM at the Exeter District Cemetery.

Obituary:
Isaac Gonzales Jr., born June 8th, 1983, was an incredible father, son, brother, grandson, uncle, nephew, cousin, colleague, and friend. He left this world suddenly on February 10th, 2021 at the young age of 37.
To have known Isaac on a personal level was to understand what it truly means to love life. Raised by Isaac and Shirley Gonzales, growing up with younger sister Jessica, being looked up to by cousin Anthony, taking Aunt Lidia's car for a spin before the law said he should, slingshotting fireworks into the sky, then watching them fall and light oleanders on fire, causing quite the havoc at his Grandma and Grandpa Gonzales's house, all shaped Isaac into the man that he eventually became. He knew what it felt like to be trusted; he knew what it meant to fully trust, and with all that he had learned and appreciated growing up, applied it to an incredible 8-year career actively serving his country in the Air Force, and subsequent time spent after as a reservist and private citizen. Isaac was raised to be ready to take on the world, and as a man, he strived to make it better.
To his friends, Isaac was the person you relied on to always be there to lift you up, crack a joke just at the right time, or be willing at the spur of the moment to take an unplanned trip simply because it sounded fun. He was kind, compassionate, empathetic, caring, thoughtful, intelligent, and funny. He had a presence about him comparable only to what can be described as a gravitational pull, and when you needed him, you had his full and undivided attention. To Izzy and Nate, he was dad. He was a consistent presence in their lives, no matter what he or they were going through, it was his job to be there for them. More than any other responsibility in his life, he embraced being a dad greater than them all. His love for and dedication to his children was his primary driving force, his motivation for everything.
Isaac is survived by his two children, Isabella (12) and Nathaniel (11), parents Isaac and Shirley Gonzales, sisters Jessica and Karina, brothers Elijah and Gabriel, and countless family, friends, and colleagues.
Graveside Services will be held on Thursday, March 4, at 2:00 PM at the Exeter District Cemetery. In lieu of flowers or plants, we encourage contributions to the GoFundMe campaign set up for his young children, which can be found by typing "In Memory of Isaac Gonzales" in the search field on GoFundMe.com. Condolences may be sent to the family at www.evansmillerguinnchapel.com or Tulare County Obituaries at https://www.facebook.com/groups/2072945459676292. Services entrusted to Evans Miller Guinn Chapel.





---




Josie Staley

- February 27, 2021 Contact this person


Shirley,Issac and family, Just wanted to let you know our prayers are with you. Our hearts go out to you and your family. May you look to God bring you comfort and peace. And seek out friends and family to bring that peace or to just talk. Our sincere condolences. In Christ's Love, Josie and Ron Staley




---




Tony Garcia

- March 4, 2021 Contact this person


My condolensces i remember him as a kid when he was little. All my prayers and love. Tony(papa) Garcia




---