In Memoriam : Janet Stutsman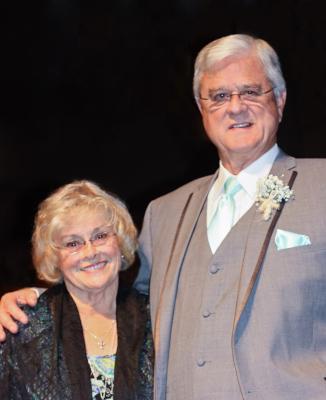 Janet Donson Stutsman - age: 84
(June 15, 1937 to October 02, 2021 )
Resident of Exeter, California

Visitation Information:
Graveside Services will be held on Friday, October 8, 2021 at 2:00 pm, Celebration of life 3:00 pm at the Church of God of Exeter. Donald and Janet will be laid to rest next to their grandson Kyle in the Exeter District Cemetery.

Obituary:
Donald and Janet Stutsman

Donald Allen Stutsman "Papa" 83, long time Citrus Farmer in Exeter. Was welcomed home peacefully by his Father in Heaven on September 24, 2021 from the Hospital with his children by his side. Janet Donson Sloop Stutsman "Nana" 84, Citrus Farmer and Homemaker of Exeter was also welcomed peacefully by her Father in Heaven on October 2, 2021 surrounded by family in her home. Donald was born on October 17, 1937, in Orange, California to Walter and Margaret Stutsman. He is preceded in death by his parents and his twin brother David Stutsman. He is survived by his Brothers Walter and Donna Stutsman, Robert Stutsman and his sister Peggy Criswell. He graduated from Tustin High and attended Long Beach State. He Married the love of his life Janet on May 30, 1957. Janet was born on June 15, 1937, in Pasadena, California to Kenneth and Dorothy Sloop, she is preceded in death by her parents. She graduated from Tustin High and attended Whittier College. Donald and Janet were 4th generation California Citrus Farmers. They took great pride in the development and management of their family farm and dreamed of the next generations continuing the tradition. Donald and Janet "Papa and Nana" greatest joy in life was their family. They are preceded in death by their beloved grandson Kyle Lucas Stutsman, and they were looking forward to joining him again in Heaven. Papa's passing was a beautiful testimony of God & #39's love as he took his last breath to the hour on the seven-year anniversary of Kyle's departure for heaven. Papa and Nana are survived by their children, grandchildren, and great grandchildren. Their eldest son Stephen and Traci Stutsman. Their Children Stephanie and Joseph Morales, great grandchildren Madison, Maddox, and Bella. Donald and Felicity Stutsman, great grandchildren Calib and Gracie. Kurtis and Alysia Stutsman, great grandchildren Skyla and Soren. Youngest son Randall Stutsman. Their Second Son, David Stutsman and his children, Erin and Luke Vance, Garrett Stutsman, Allison and Jeremy Ice, great grandchildren Dominic, Remus, and Raven. And youngest daughter Abigail Stutsman. Their Daughter Julie and Ronald Watson, their children Devonna and Patrick Hendricks, great grandchildren Anden, Micah, Ezekiel, and Elliana. Brenden and Lynsi Watson, great grandchildren Cameron, Kase, and Cole. Dylan and Bridget Watson, great grandchildren Tanner and Paisley. Rhett and Catalina Watson, great grandchildren Titus and Remi. And their youngest Son Kenneth and Teri Stutsman, their children Lane and Morgan Stutsman, Jake Stutsman, and preceded in death by Kyle Stutsman.


| | | |
| --- | --- | --- |
| | | Click to Enlarge |