In Memoriam : Raul (Guy) Gonzales Jr.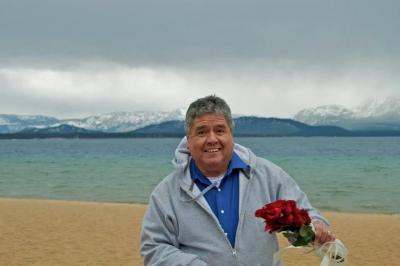 Raul (Guy) Gonzales Jr. - age: 64
(June 27, 1957 to February 09, 2022 )
Resident of Woodlake, California

Visitation Information:
A Memorial Service will take place at the Woodlake Veteran's Memorial building 355 N Acacia St, Woodlake, CA 93286. Thursday March 3, 2022 at 3 P.M.

Obituary:
Raul Gonzales Junior
Raul (Guy) Gonzales Junior passed away unexpectedly on February 9, 2022. Raul was a beloved husband, son; father, brother, uncle, nino and friend to name a few of his many titles. Raul was born on June 27th, 1957 to Raul Gonzales Sr. and Alvina Gonzales, the first of four children; Guy was a doting older brother to his sisters. After graduating high school Guy went on to join the United States Navy and serve his country. He eventually settled down in Woodlake California so he could be closest to his family and friends. Guy was a civil servant; always giving back to the community. He served as the Mayor of Woodlake for 4 years and District Manager of Woodlake Cemetery for 30 years. He was the past president of the Woodlake Lions Club, and was an active member of the Archery Club. Guy is survived by his father Raul (Irene) Gonzales Sr., his wife Kelly Gonzales, two sons, Raul (Amy)Gonzales III, and Ryan (Saundra) Gonzales, step-children Katie Elliot, Heather Mejia, Ryan Mejia, Holly Mejia, grandchildren Ty and Ayden, eight step grandchildren, sisters Josephine (Shayne) Torgrimson, Melinda Journey, Julie (Kevin) Scharton, and countless nieces, nephews and cousins. Raul is preceded in death by his mother Alvina Gonzales. Guy had a great love for geology, and gemology. He shared this passion with his family and friends and would often gift special rocks and stones to those he loved. Much of his pastime was spent rock hounding, fishing, camping and bow hunting. His love for his wife, kids and grandchildren could be seen and felt by all who knew him. His laugh was infectious and his smile could light up a room. There are not enough words to surmise how much Raul will be missed by his family and friends. We are eternally grateful for the time spent with him. Condolences may be sent to the family at www.evansmillerguinnchapel.com. Arrangements entrusted to Evans Miller Guinn Chapel.





---




Melinda Journey

- February 13, 2022 Contact this person


I love you brother.. 😢 This just seems so unreal .. Rip




---




Sam Montez

- February 15, 2022 Contact this person


Guyo… Much of my adolescent and early teenage years were spent looking up to Guy. The oldest of the "Cruz" cousins, he was a lighthouse of sorts for me. Spending many a weekend as well as entire weeks during the summer at Tia Binnie's & Tio Raul's, I had lots of opportunities to hang on to Guy's coat tail. He always made me "comfortable" as his little sidekick; never making me feel like I was a burden. I have many fond memories of camping, fishing, shooting shotguns and .22 cals, running or driving through the orchards, grafting small trees, lighting smudge pots and garbage cans, and many other outdoor activities. I will forever be grateful for Guy embracing me and making me feel like a loved little brother. RIP Guyo. Pugo




---






Click to Enlarge