In Memoriam : Neoma Fernandez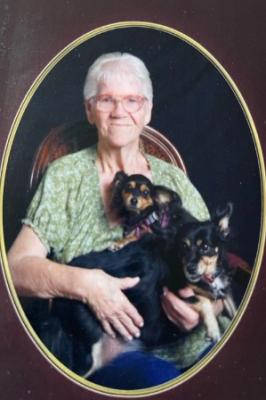 Neoma Faye Fernandez - age: 88
(February 21, 1934 to August 27, 2022 )
Resident of Lindsay, California

Visitation Information:
Memorial Service will take place the the Rocky Hill Community Church on Saturday September 3, 2022 at 11 A.M.

Obituary:
Neoma Faye Fernandez went to be with our Lord and Savior, Jesus Christ early Saturday morning, August 27, 2022, peacefully in her sleep. Neoma was 88 years old. She was a twin, born on February 21, 1934, in Tulsa, Oklahoma to Richard Wallace Graves and Lillie Mae Graves. She had seven siblings, 3 brothers and 4 sisters. Frank Graves, Ella Magby, John Graves, Ioma Mae Lambren, (her twin), Margaret Garcia, of Oklahoma, Peggy Costa-Shepard, of Rancho Cucamonga, and Richard Graves. Neoma met the love of her life, Mel D. Fernandez aka, "grandpa" in 1952 at the age of 18. They married later that year on August 18, in Boise, Idaho. They had their eldest, Beverly, in 1954. They moved to Arizona and had Lillie Jo in March of 1956, and shortly after Lillie was born, they moved to California and had Brenda Faye in September of 1957. They eventually settled in Exeter, CA in 1959 where they had their only son Melvin in April of 1960. Mel and Neoma were married for 43 years. In 1980 Neoma returned to school to complete her GED so she could attend Porterville College to become a Psychiatric Technician, completing the program in 1982. It was always a dream of hers to complete her education. She worked at the Porterville State Hospital from 1968-1982 as a housekeeper and eventually as a Psych tech retiring in 1990 from a disability. After Mel passed away in 1994, Neoma moved back to Oklahoma to be with her sisters. She eventually returned to California in 2010 to be with her children and grandchildren. Neoma loved attending church, and never lost her faith during her battle with Alzheimer's. She loved being outdoors and taking care of her dogs, Itsy and Baby. She loved sewing and to sing or hum a little tune as well. She loved her children and being surrounded by her family. She is survived by her daughters, Beverly Valle of Tennessee, Lillie Mickles and husband Gary of Lindsay, CA, Melvin Fernandez and his wife Daphne of Lake Nacimiento, CA, and her son-in-law Dan Lovell, husband of Brenda, of Exeter, CA. She is also survived by 16 grandchildren, 28 great-grandchildren, and 4 great-great grandchildren. She is proceeded in death with her husband Mel, parents, and five siblings, Frank, Ella, John, her twin Ioma Mae and her brother Richard. Her daughter Brenda passed away in 2020. A celebration of life will be held at Rocky Hill Community Church on Saturday, September 3, 2022, at 11am, with a luncheon to follow. The family would like to thank John and Evans Miller Guinn Chapel and condolences may be sent to the www.evansmillerguinnchapel.com. In lieu of flowers, the family is asking for donations to be made to the Alzheimer's Association at act.alz.org in memory of Neoma Fernandez.