In Memoriam : David Peterson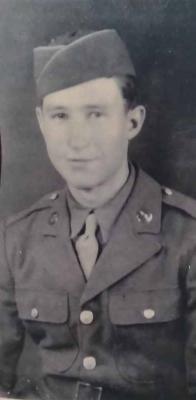 David Edward Peterson - age: 99
(February 03, 1923 to September 05, 2022 )
Resident of Visalia, California

Visitation Information:
Visitation will be held on Tuesday September 13, 2022 from 2-6 p.m. at Evans Miller Guinn Exeter Chapel. A Graveside Service will take place on Wednesday September 14, 2022 at 10:00 a.m. at the Exeter District Cemetery.

Obituary:
David Edward Peterson, 99, passed away on Monday, September 5, 2022. David was born in Winters, Texas on February 3, 1923. He moved to Farmersville, CA in the late 30's. He met and married his wife Evalena Willard on October 11, 1941. David was drafted into the Army in World War II, he was sent with the 475th Mars Task Force to reinforce the Merrill's Marauders in Burma. He was promoted to Sergeant in charge of 36 men. He was a sharp shooter in the Army. David worked in farming for the Peterson Ranch in Tulare and then the Shannon Ranch until retirement. He was preceded in death by his wife Evalena Peterson in 2006. His Father King David Peterson and Mother Della Laura Jean Peterson. He is survived by his Daughters, Betty R. McCants of Visalia, Daveline Evans and Husband Jerry Evans of Tulare, Wilma Janey Houser and Husband Joseph Houser of Ivanhoe, and Janet A. Womack and Husband Tommy Womack of Visalia. Son David L. Peterson and Wife Gail Peterson of Visalia. Two grandsons, Michael Evans of Tulare and Matthew A. Houser of Visalia. Four granddaughters Elizabeth Gomez of Visalia, Tanya A. Yahne of Tulare, Stephanie J. McCants of Visalia, and Dawn M. Nunn of Visalia. Two Great-Grandchildren and two Great-Great-Grandchildren.