In Memoriam : Maureen Chappell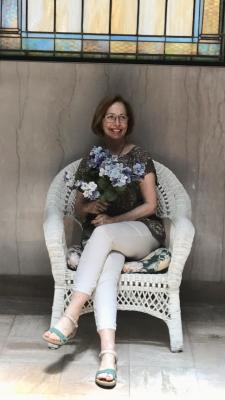 Maureen Joetta Chappell - age: 80
(May 27, 1942 to September 18, 2022 )
Resident of Three Rivers, California

Visitation Information:
Private Service.

Obituary:
On September 18, 2022, Maureen passed away at her beloved home in Three Rivers, CA, surrounded by those she loved. She kept everyone on their toes til the very end and surely spent some of the extra time hanging out at the rainbow bridge with all of her four legged and feathered friends. Maureen, or Mo, for those close to her, was born in 1942 to Vernon and Inez Sims in Exeter, CA. She had two older brothers, Phil and Gary, who preceded her in death, and one older sister, Marcia, who was much much older if you asked Mo. Maureen spent her somewhat feral childhood days at the Sims Ranch raising horses, pigs, chickens, dogs and any other creature that crossed her path. She was forever bringing in stray dogs with only her rope as a leash. As a young child she often wandered off and could usually be found hanging out in the pig barn and was once rescued by her father as she went floating by down the ditch, probably under her brothers' watchful eyes. It's too bad that punch cards had yet to be created as she was a frequent client at the doctor's office for stitches on elbows, knees, her head and backside. Always the brunt of jokes, as she was the youngest of 4, her brothers convinced her a bag of corn hanging from the ceiling in the barn was a bag of gold. She bore the scar on her lip resulting from that fall for the rest of her life. On another occasion, Phil and Gary enlisted Mo's help with bb gun target practice. She assumed the target was the dead gopher that they had her hold up in front of her. Little did she know… Maureen attended Outside Creek School through 8th grade, where she made lifelong friends and rather than walking uphill to and from school, she was sometimes known to ride her horse. She and her father were members of the Saddle Club and developed a special bond over many weekends traveling to ride horseback in parades, the mountains and on the beach. One of these trips was very memorable to much much older sister Marcia as they stayed in their very first hotel in Santa Maria. Maureen attended Exeter Union HIgh School and graduated in 1960. She used many modes of transportation to travel to school/town in her high school years. After being completely mortified by a chicken leaping out of her mother's car in front of the high school, she decided to look into alternatives including a tractor and eventually her little red sports car. She was a member of FLC, Y Teens, Rally Club and Pom Pom Girls and probably a few other clubs, but her yearbooks have been hidden away somewhere. No telling the tales that those inscriptions would tell. After high school, Maureen worked for Tulare County at the Courthouse, then moved to the Bay Area to work for Fairchild Semiconductor. Mo met Rick in Mountain View after becoming neighbors in the same apartment complex. Their relationship began in a pizza parlor during a raucous brawl that Rick and friends may or may not have been involved in. The band was said to have been playing The Star Spangled Banner with chairs and beer mugs bursting in air. After an appropriate amount of time they got engaged and eloped to Carson City, NV in 1966. Mo and Rick resided in Saratoga, where Rick was to first witness Mo's soft heart for all creatures great and small. There they took in their first, yes, first, baby squirrel who then moved with them to Fremont when they purchased their first home. Here they had their first daughter, Laura. Mo soon convinced Rick to move back to her hometown of Exeter in 1969 and purchased a home where their second daughter, Erin was later born. This house was a perfect backdrop for Halloween and spooky pranks, and Rick and the girls were the ideal victims as they had been raised in a much more civilized manner. Maureen was Decorating Extraordinaire, Dog Raiser, Power Walker, Bird Saver, Neighborhood Mom, Peacekeeper, Party Planner, Prank Player, Treasure Hunter, 4-H Leader, Artisan, Cake Baker, Stargazer and Magic Maker. The Chappell House was filled with music and magic and cat hair and dog hair and bird feathers and homemade granola. Her house always had an open door and she welcomed stray cats, dogs, friends, and the occasional wanderer from the old folks' home across the street. There was even a short period of time that she took in a very vulgar parrot. This delighted Laura and Erin's friends to no end. This home was a place for a home cooked meal or a soft place to land, homemade playdough, barbies, tightly braided hair with yarn for ribbons, and top secret information recorded in shorthand. Lemonade stands and stuffed animal parades were a common occurrence on the block where the neighborhood kids zoomed about on roller skates, bikes, and the giant rope swing, resulting in many cuts and scrapes. It was in this neighborhood that she met someone who was to become one of her dearest friends, Ann. They walked every morning for years with their pack of dogs and made serious progress on solving all the world's problems. Maureen had a well honed talent to see beyond the dust and dirt and could bring out the beauty or cleverness in all things old. Nothing a coat of paint, Howard's Feed-n-Wax or a good varnish couldn't repair. The hours spent traipsing all over the county with lifelong friend Karen to yard sales and junk shops in search of treasures are uncountable. They even converted the garage into an antique shop for a short time. Once the girls were older, Maureen worked for many years for Gerald Haggard, DVM at Exeter Veterinary Hospital. Here she made many new friendships with the staff and clientele and was able to continue helping animals. As the girls transitioned out of living at home, they were quickly replaced by geriatric dogs and friends Wilma and Mickey, Carol and Gene, Merrilyn and Denny, and Phil and Sandy. This group was the life of every party and spent many weekends at the coast and traveling together. The photographic evidence only tells a partial story of the fun, but clear evidence that Mo was the queen of the party. Maureen and Rick moved to Three Rivers in 1993 along with all the old dogs, turning a tiny one bedroom, unremarkable house into another even more magical place for her family and friends. This little sign that hangs in the house sums it up perfectly, "This was my prayer, a piece of ground not over large, with a garden, and near to the house a stream of constant water." Mo was happiest when there was an on-going construction project. All projects seemed to have earned a name: The Turtle House, The Bunkhouse, The Treehouse, The Outhouse, The Bird's Nest, The Nook, The Donkey Room, and Shack Chappell. All holidays and birthdays were celebrated here along with many gatherings on the deck or out at the creek for her friends and family alike. Guests were sure to enjoy the company of Stoney, the miniature donkey, and his best friend Bo Peep, the ancient sheep. Stoney is still a fixture there and a favorite for locals, bicyclists, the UPS guy and of course, Rick and the Girls' families and friends. After retiring, Maureen took on the role of Momo and joyfully introduced her grandkids to her sharp wit and quick tongue. She and Grandpa (Rick) drove many miles up and down that hill to cheer their grandkids on in ALL the sports. The grandkids memories are bursting with Easter Egg Hunts, which were part Amazing Race and part Survivor, silly songs, confetti eggs, rubber duck races down the creek, Hot Potato, which was a lesson in dexterity and performance under pressure, pickle prizes, the rope swing, hide-n-seek, chocolate bandaids for non existent owies, and real bandaids for wasp attacks. Mo enjoyed the last 20 years with fun-filled yearly gatherings with special life long friends, the "6-60s Ladies." Her highly developed sense of humor was often the focus of their joy in those get-togethers. (We've seen the albums; fortunately there are no aspiring politicians in the 6-60s Ladies group). Mo's special friendships also included fellow members of "The Ancient and Honorable Order of Turtles", however details are most certainly unavailable on this topic. Maureen is survived by her husband Rick, of Three Rivers, her much much older sister Marcia Long of Santa Barbara, sister in law Judy Chappell of Santa Cruz, daughters Laura Johnson (Brian) of Visalia and Erin House (Marty) of Visalia. Also nieces and nephews; Cathy Sims, Donna Sims, Janice Sims Hoffman, David Sims, Kelly Long, Susan Long, Mike Long and Beth Long, Melanie Braun, Peggy Milovina-Meyer, Sue Milovina and spouses.She is also survived by her grandchildren Corey Johnson, Allie Johnson Santos, Evan House, Riley Johnson, Gavin House, Jacie Johnson, three great grandchildren, thirteen great nieces and nephews, and too many friends to list. A Celebration will be held in her honor for close friends and family later in the fall. Maureen's last wish was found on a note. "Now I lay me down to sleep, I pray the Lord my soul to take, but please don't throw me in the lake. Release me on a gentle hill, resting somewhere between Dad and Phil." Condolences may be sent to the family at www.evansmillerguinnchapel.com. Arrangements entrusted to Evans Miller Guinn Chapel.