In Memoriam : Paula Thomas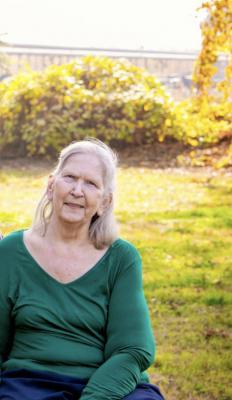 Paula Lucille Thomas - age: 78
(May 07, 1944 to November 30, 2022 )
Resident of Exeter, California

Visitation Information:
At Paula's request, a private family burial will take place with a carnival to be held at a later date.

Obituary:
Paula Lucille (Marks) Thomas was born on May 7, 1944, in Exeter, California to her citrus rancher father, and homemaker mother, Paul and Lucille Marks. Paula was reunited with her mom, dad, brothers and 'little' sister when she passed away on November 30, 2022, unexpectedly. She was the third child of six. Paula grew up on the family's citrus ranch in Lemon Cove, along the banks of the Kaweah River. The family was forced to move from their ranch to Visalia, due to the building of Terminus Dam. With this move, Paula graduated from Mt Whitney High School. Paula is preceded in death by her father, Paul Marks, her mother, Lucille Marks, her two older brothers Chuck Marks and Bill Marks, and her two younger siblings, Joe Marks and Marjorie (Marks) Fly. While attending high school in Visalia she met the love of her life, Bill Thomas, or as she referred to him, "my rock". They married on December 30, 1963; this year would have been their 59th year of marriage, Two complete opposites but one united, unconditional love. Paula and Bill settled down in Exeter where they raised their two children, Michael Thomas and Susan (Thomas) Caldwell. Paula received her LVN License and X-Ray technician license, thereafter, worked in various settings, including hospice nurse, ER nurse at the Old Exeter Memorial Hospital, Tulare County Methadone Clinic, the Exeter Medical Clinic, the medical offices of Dr. Paul Genstler in Exeter, Tulare County Juvenile Detention Center, Tulare County Office of Vocational Education (TCOVE) as a CNA Instructor, migrant nursing for Tulare County. She also obtained her audiometry license. She ended her long nursing career as the school nurse at Exeter Union High School, enjoying her work with students there for 25 years. Paula was an avid reader and loved being in nature, particularly the mountains. She imparted a sense of the magic and appreciation of nature to her children, grandbabies, and great grandbabies. She instilled in them, as she did with her own children and nieces earlier, the love of fairies and gnomes. She even asked her husband, Bill, to build her gnome doors for the base of every tree in their yard. Paula built a fairy garden along the side of her house and set up her great-granddaughter with her very own fairy garden. Laying on a blanket in the backyard looking up at the sky and looking for different animal shapes in the clouds was another one of her favorite activities to do with her family. Paula didn't know a stranger; she would make everyone feel comfortable in her presence and feel accepted. She could interact with people from all walks of life, from a businessman in a three-piece suit to a homeless person on the street, without skipping a beat. She loved telling stories, and bragging on her all her kids, the two grown ones, her grandkids, and great grandkids. Paula is survived by her husband of 59 years, Bill Thomas, her beloved dog Lil Bear, her son, Michael 'Mike' Thomas and his wife, Christine; her daughter, Susan (Thomas) Caldwell and her husband, David, her eight grandchildren, Cressie (Thomas) Munsch and her husband, Jeff, Courtnie (Thomas) Holt and her husband Derrick, her grandson, Kevin Thomas and his wife Shelby, her granddaughters Chloe Caldwell, Abigail Caldwell, and grandson Ethan 'Paul' Caldwell, granddaughters Destini Guglielmoni and her husband Brandon, Tineasha Villarreal and her husband Mitchell. Paula is also survived by her ten great grandchildren, Riley Thomas, Madison Thomas, Trevor Munsch, Scott Holt, James Holt, and Dax Holt, Dakota Pratt, Brayden Guglielmoni, Vienna Villarreal, Maximilian Villarreal, and her sister, Anne Marks and her partner Kerry Kaus. Paula will also be missed by her many beloved nieces and nephews. Services will be private, and per Paula's request, a "Carnival" in celebration of her life will be held at a later day for both family and friends. In lieu of flowers please send donations to Happy Trail Riding Academy in memory of Paula Lucille (Marks) Thomas. She was an avid horse lover and her granddaughter attended Happy Trails for 9 years as a rider, so this organization has always been near and dear to Paula's heart.





---




Susan Thomas

- December 5, 2022 Contact this person


My mama was called home, unexpectedly, by God on Wednesday, November 30, 2022. I miss her more than anything. The pain is far worse than I ever imagined. The attached pictures were taken on Sunday, November 27, 2022, unbeknownst to us that she would be gone 3 days later. Please keep our family in your prayers, especially my dad, and her husband of 59 years, Bill Thomas.




---




Fereleen Schultz

- December 6, 2022 Contact this person


Sending love and prayers to all of you.




---






Click to Enlarge