In Memoriam : Mary Ann Karsky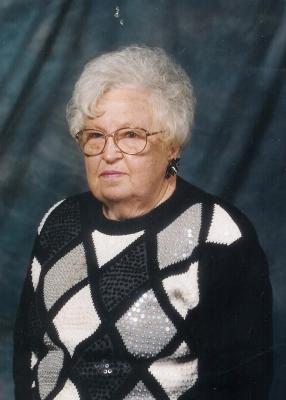 Mary Ann McCord Karsky - age: 99
(June 16, 1911 to October 25, 2010 )
Resident of Porterville, California

Visitation Information:
Visitation will be held on Thursday, October 28, 2010 from 2:00 to 6:00 PM at Evans Miller Guinn Chapel. Graveside Services will be held at 10:00 AM on Friday, October 30, 2010 at the Exeter District Cemetery.

Obituary:
Maryann Karsky was born July 16, 1911 in Ozark MO. She was 99 years and 3 months of age. She passed on to heaven October 25, 2010 in Porterville, CA. Maryann had lived the last 16 years on the Elam Ranch in Porterville owned by George and Trish Elam, her nephew and niece. Maryann was born to Fred and Mary (Lasley) Mc Cord and was one of six children.
Maryann left home after high school to find work during the depression and worked for General Motors Assembly Plant in Kansas City MO, where she met the love of hers life, Joseph Karsky. Joe and Maryann where married April 21, 1934 and moved to Langdon ND. They resided on their hard earned farm of 1320 acres. They were staunch supporter of the Catholic Church and provided funding for new restrooms and a sanctuary. Joe and Maryann loved to dance to the big band sounds of Lawrence Welk, a home town celebrity of Langdon, ND. Maryann also loved to fish at their Canadian cabin, loved flowers and most of all roses and gardening. Joe and Maryann made many trips to California. Nine years after her husband passed away, Maryann moved to California to be close to her family. She is preceded in death by her husband Joe; two brothers Sam Mc Cord of Everton MO and Fred Mc Cord of San Francisco; two sisters Vina Creveston of Exeter and Pearl Davidson of Kansas City MO. Maryann is survived by one sister, Juanita Elam of Exeter and many nephews and nieces.