In Memoriam : Virgil Bullard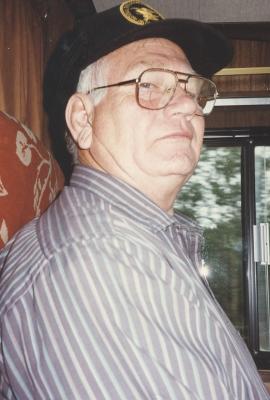 Virgil Carl Bullard - age: 77
(December 28, 1933 to March 17, 2011 )
Resident of Farmersville, California

Visitation Information:
Visitation will be held on Thursday, March 24, 2011 from 4:00 to 8:00 PM at Evans Miller Guinn Chapel. Graveside Services will follow on Friday, March 25, 2011 at 2:00 PM at the Exeter District Cemetery with Military Honors.

Obituary:
Virgil "Carl" Bullard was born on December 28, 1933 to Don and Dorothy (Martin) Bullard. They moved to California settling in Richmond before moving to Farmersville. He attended elementary school in Farmersville and graduated from Exeter Union High School with the class of 1951. After attending College of the Sequoia's he enlisted into U. S. Air Force. Carl worked as a Jet Mechanic and a Senior Enlisted Advisor and served over 31 years. After retirement from the Air Force, they moved back to the Farmersville area and created a part time home. One of his many loves was RVing and traveling the United States. They made many friends and spent time in Alaska and Missouri as second homes. He loved to fish and hunt, along with doing Genealogy. Carl loved his family.
He is survived by his wife, Georgia "Maxine" Bullard of Farmersville; one daughter Carla Suzanne Evans (Lewis) of Dunlap;two sons, Michael Lee Bullard (Debbie) of Wentzville MO and Virgil Carl Bullard (Patricia) of Fairbanks Alaska; three sisters Helen Forcum of Woodlake, Shirley Riley of Visalia and Mary Ann Riley of Livermore. He is also survived by 9 Grandchildren, 4 Great Grandchildren and many friends.





---




Michael Bullard

- March 18, 2011 Contact this person


I love you Dad and wish I could have been there with you as you passed from this life to the next. I'll be there home soon to be with Mom and everyone. You are the BEST DAD and I'm so happy the Lord saw fit to make me your son. You were always my role model as a father, as a husband and as a professional. You showed me the value of hard work, dedication, passion and integrity. You taught me to respect other people and to have empathy and show understanding of others, to remember I would have to walk a mile in someone's shoes to understand them.




---




Catherine Hughes

- March 21, 2011 Contact this person


Please accept our sincere and heartfelt condolences. Our thoughts and prayers are with you all during this very difficult time. Hughes Family




---




MIllard (Dave ) Davuis

- March 22, 2011 Contact this person


You and I were friends for over 40 years. We hunted and fished together for most of those years. I loved you like a brother and looked up to you all those years. I already miss your phone calls and will miss you in Alaska this summer when I go fishing and moose hunting. You will be in my thoughts every time I go fishing, hunting. camping or drive the Alaska Highway. May you rest in peace my Friend, Virgil C. Bullard, CMSgt, USAF Retired.




---




Charles Riley

- March 23, 2011 Contact this person


My big brother. I already miss you so very much, and love you so much. You were so special. How do you say goodbye to someone you never thought would leave? "He was one of the best persons I ever knew. He had the biggest heart, the sharpest mind, the most encompassing soul ever lent to this earth. He was my Big brother, and I wanted to grow up to be just like him," I must have done well because my sister in law says my brother and I should have been twins. My brother was a true gypsy. After finishing 31yrs in the Air Force, he traveled. He had a temporary home in Farmersville, and now in Visalia. He left a fifthwheel in storage in Arizona, left a motorhome in Alaska, and had a truck camper on his new Diesel Chevy truck ready to go. He traveled the USA many times. He had endless energy until Cancer ravished his body. His biggest concern was leaving Maxine alone. This shows the kind of person he was. Instead of mourning my Big Brother, we must remember all the good memories. What a wonderful time we had during his last visit to our home here in Los Osos. The memories of the time we spent Rv'ing with him in Arizona, parked side by side will always be precious. My brother, you suffer no more and now you are in God's arms. Carl will forever be in my heart. I Love my Big Brother. Forever and Always Shirley Bullard Riley




---




Linda Davis

- March 25, 2011 Contact this person


Dear Friend, though you have been gone only a few days, you have left a hole in our world and our hearts larger than than the Grand Canyon, Texas and Alaska combined. Your friendship over the past forty plus years was more precious than gold. The time we spent together camping, bowling, snow machining, all the king crab we could eat at the club, playing pinochle all night, fishing and RV-ing together. Thank you especially for taking Jacey fishing, she does so love to fish, and myself we enjoyed it so much. Sorry we couldn't do it again. The Saturday mornings you spent with us waiting for your "Little Bride" to wake up. You will always be with us, and so will your,"Little Bride". Goodnight for now Dear Friend.




---






Click to Enlarge