In Memoriam : Thelma Collins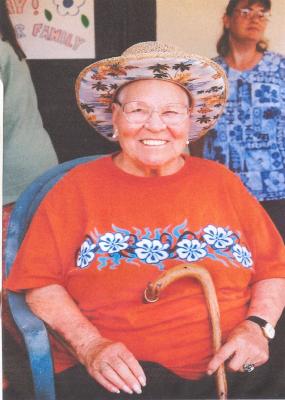 Thelma Louise Collins - age: 90
(September 11, 1920 to March 22, 2011 )
Resident of Exeter, California

Visitation Information:
At Thelma's request, the family will get together at a later date to honor her life.

Obituary:
Thelma Collins or Snookie or "Old Grannie" as she liked to be called was raised on the farm during the Texas dust bowl. She was born September 11, 1920 in Valley Mills, Texas. As a young bride she moved with her family "Grapes of Wrath" style to California. She could hunt, fish and skin a rabbit. She was spunkie and fun and she had a lifelong positive affect on everyone she met. She was preceded in death by two of her daughter; Thelma Brockett and B.J. Petrina.
She is survived by her daughter Helen (Burns) Saulsbury; sister Cindy Stocks and a brother Dee Poole. She is also survived by her grandchildren Yvonne LaFleur, Elaine Mello, Jennifer Ferrario, Carla Correia, Sarah Arevalo, Ryan Brockett, Ted Petrina and Phillip Petrina. There are also eighteen great-grandchildren. The family wishes that memorials be sent to Hospice or the American Cancer Society.


| | | |
| --- | --- | --- |
| | | Click to Enlarge |