In Memoriam : Courtney Campbell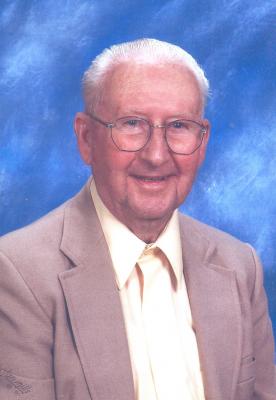 Courtney W. Campbell - age: 97
(May 09, 1913 to March 30, 2011 )
Resident of Exeter, California

Visitation Information:
A Celebration of Life will be held at New Life Church on the corner of Palm and B Streets in Exeter on Saturday, April 9, 2011 at 10:00 am.

Obituary:
Courtney Winston Campbell was born May 9, 1913 in Chandler, OK and passed away March 29, 2011 in Visalia CA. Courtney was raised in Oklahoma where he later met and married his wife, Tessie Osborn on January 26, 1935. They were married 68 years when she preceded him in death. Together they had three sons, Ronald, the oldest child, passed away in 1937 at the age of 13 months. He is survived in death by sons Carrol G. Campbell and wife Virginia and Larry A. Campbell and wife Sue all of Exeter, CA.
Courtney has a deep love for his Lord and Savior Jesus Christ. He was not a member of a church, but attended various churches in Exeter and Farmersville. Courtney loved his family and they loved him greatly. His church family and friends also, knew his love and support. He and his wife Tessie enjoyed camping every summer in the Sequoia National Park. They had many family get togethers and reunions over the years. Courtney was also active in the Farmersville Senior Center serving as its President for many years. They also did a lot of traveling with the Senior Citizen group from Farmersville, going to Catalina Island and many other places. He had a deep love for singing and writhing music as well as playing the guitar. He also love singing with quartets with different friends over the years. The quartet group he was a member of was asked to be on radio and TV.
Courtney is also survived by 4 grandchildren; Ronnie Campbell and wife Danette of Maui, HI, Darin Campbell and wife Staci of Keaau, HI, Catrina Campbell Gates and husband Jeremy of Farmersville CA, and Julianna Campbell Martin and husband Tom of Tulare, CA. He had 6 great grandchildren; Joseph Haas, Courtney and Jamie Campbell, Cadence and Harrison Campbell and Joel Campbell Gates. He is also survived by 2 nieces and 2 nephews. Courtney is preceded in death by his parents, Marion and Martha Rachel Campbell, brothers Chester, Troy, Taylor and Bradley Campbell, sisters Marie, Stella and Fern.