In Memoriam : Maneva Johnston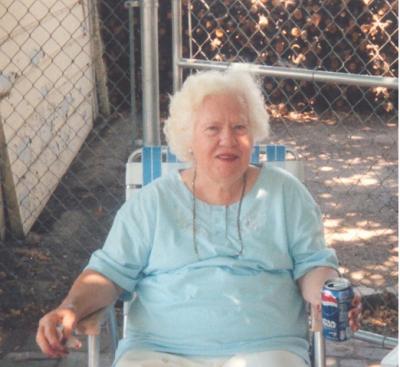 Maneva E. Johnston - age: 86
(April 10, 1924 to April 07, 2011 )
Resident of Exeter, California

Visitation Information:
Visitation will be held on Tuesday, April 12, 2011 from 2:00 to 6:00 PM at Evans Miller Guinn Chapel. Graveside Services will follow on Wednesday, April 13, 2011 at 10:00 at the Exeter District Cemetery.

Obituary:
Maneva Ellen Johnston was born Ellen Maneva Qualls on April 10, 1924, in Story, Arkansas to Thomas & Margaret Qualls. She had 4 sisters and 2 brothers who preceded her in death. They moved to Woodville California in 1936. She met and married Ray Johnston in 1943.
She is survived by 2 sons Larry Johnston of Tulare, Calif. Ronald & Debbie Johnston of Visalia, Calif. two daughters Margaret Ann (Sue) Marshall of Exeter, Calif., and Teresa and Stanley Cass of Exeter. She had one son Steve Johnston of Visalia, Calif. who preceded her in death.
She was a homemaker who loved making a home for her family. She was a loving mother of 5 children, a loving grandmother of 11 grand children, 18 great grand children, 6 great great grand children. She was deeply loved and will be greatly missed.





---




Alesha Cass

- April 9, 2011 Contact this person


I miss my beautiful ♥grandma♥, she is in heaven♥♥ now, with her mom♥♥ and dad and all her brothers and sisters. She was so good to me, I owe her my life. Love you Grandma Neva! ♥Love♥ Always & Forever Your Granddaughter♥ Alesha Cass♥♥ -♥Mom I'll miss you forever from your loving daughter ♥Sue.




---




Teresa Cass

- April 9, 2011 Contact this person


♥ My sweet mom has gone home to ♥heaven. My life will never be the same . I had the pleasure of her living in my home for the last ten years and taking care of her with my sister and daughter's help. I"ll miss our walks on the beach. Mom is out of pain now, she has been suffering for along time. I will miss you so much mom, I love you. ♥Your daughter Teresa♥♥♥♥




---




Lee Ann Norris

- April 10, 2011 Contact this person


My grandma was an amazing woman who God's light shined through very brightly! I will always remember all the late night talks we had when she would come and spend the night with me. Also, all the trips to the store!! :) God bless you Grandma and thank you for being in my life! Please give John a hug for me and I love you very much! Larry Johnston: You were the best mother ever and always, and I will always remember all the trip to Salton Sea to visit your brother. I love you very much mom and you will always be remember with love in my heart! Your Son LJ




---




Linda Coffee

- April 11, 2011 Contact this person


I also will miss Maneva. During the time and years I have known her she always welcomed me. She always continued to make me feel like part of the family as well as her children. She will always carry a special place in my heart. No one deserves peace in heaven as much as she does.




---




Rachel Haynes

- April 13, 2011 Contact this person


My Sister Kathy Qualls, Maneva's niece from from her brother O'dell Qualls, want to send our deepest sympathy to Maneva's Family, We always enjoyed Aunt Maneva's visit down to the salton sea in southern california, Our prayers are with the family, Love Kathy and Rachel




---




Alesha Cass

- August 30, 2011 Contact this person


I Miss you Grandma.




---






Click to Enlarge