In Memoriam : Claude Kyle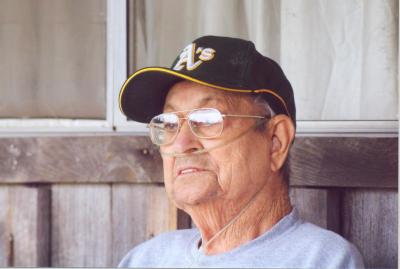 Claude - Kyle - age: 91
(March 10, 1918 to August 27, 2009 )
Resident of Farmersville, California

Visitation Information:
Visitation will be held on Wednesday, September 2, 2009 at Evans Miller Guinn Exeter Chapel from 2:00 to 6:00 PM. Graveside Funeral Services with Military Honors will be held on Thursday, September 3, 2009 at the Exeter Public Cemetery at 10:00 AM.

Obituary:
Claude Kyle was born March 10, 1918 in Whitesbor, OK. Claude worked as a farmer. He loved to go fishing, hunting and love to watch his Oakland A's and Raider's on TV, but most of all spending time with his family. He served in the military during WWII and received the Purple Heart after being wounded. He had many stories but his favorite one to tell was how he crossed the ocean on the Queen Mary and had breakfast with Dwight D. Eisenhower on a rock. Claude loved his country and was a proud American. He is preceded in death by his parents and two of five sons, Larry Glenn Kyle and Lonnie Ray Kyle.
He is survived by his wife of 62 years Lorene Kyle of Farmersville, daughter in law Pansey Kyle of OK, son Wayne Kyle and wife Lucille of Ivanhoe, son Rowdy Kyle and wife Vickey of Visalia, and Bruce Kyle and wife Lori of Exeter. He is also survived by his grandchildren, Brian, Harlene, Sharla, Michelle, Ashley, Becky, Summer, K.C., Lance, Chyanne, Kellsey and John Michael, several great grandchildren, nieces, nephews and many cousins.
Visitation will be held at Evans Miller Guinn Exeter Chapel on Wednesday, 9/2 between 2:00 P.M. to 6:00 P.M. and a graveside service will be held at Exeter Public Cemetery District on Thursday, 9/3 at 10:00 A.M. followed by a reception at the Exeter Eagles Lodge.
Condolences may be sent to the family at www.evansmillerguinnchapel.com. Services entrusted to Evans Miller Guinn Exeter Chapel.





---




Gayla Risenhoover

- August 31, 2009 Contact this person


Claude, was a very special man, and one time father in law to me. I will miss talking with him. He always treated me the same through out the years I've known him. I love him very much.. God Bless Lorene and the Kyle family through this time and take care of them. love, Gayla and family




---




Uneda Herron

- August 31, 2009 Contact this person


Claude was a very special cousin and will be deeply missed. My brother Daniel Savall and I spent many happy times with Claude. My family and I send our condolences and remember you in our prayers. Uneda Savall Herron (Claude's 2nd cousin and Daniel Savall's sister)




---




Jason Keenom

- August 31, 2009 Contact this person


Claude was a very special man. I always loved talking with him when he came to visit the family here in Arkansas. Our condolences go out to Aunt Lorene and the boys in this difficult time. The Kyle family will be in our thoughts and prayers. Jason, Cindy, Keely, Kadie, and Khloe Keenom




---




Vicki Keenom

- September 1, 2009 Contact this person


Lorene, Wayne, Rowdy, Bruce, and family we are so sorry for your loss. Ricky has always said Claude was like a DAD to him!!!!!! We would like to thank you all for sharing such a WONDERFUL MAN with us!!!! Ricky has so many wonderful memories because Lorene and Claude and sons let him share a piece of your family when he needed it the most. We will miss Claude GREATLY!!!!!! Love you all!!!!!! We will continue to keep you all in our PRAYERS!!!! Love you, Ricky and Vicki Keenom




---




Daniel Savall

- September 1, 2009 Contact this person


Claude was a very special fried of mine, and I will miss our phone conversations very much. Claude was a brother I never had. Lorene you and all the family are in our thoughts and prayers.




---




John Kyle

- March 10, 2020 Contact this person


He was my grandpa that i only met when i was a baby and i don't remember him at all




---



Click to Enlarge