In Memoriam : Betty Hayward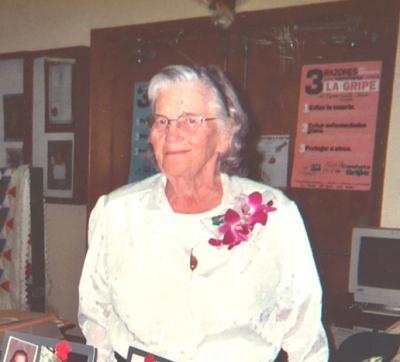 Betty Z. Hayward - age: 78
(November 07, 1932 to May 09, 2011 )
Resident of Exeter, California

Visitation Information:
A Memorial Service will be held on Wednesday, May 11, 2011 at 6:00 PM at the Evans Miller Guinn Exeter Chapel. Burial will be in the Visalia District Cemetery. Remembrances may be sent to the Farmersville Senior Center, 444 North Gene Avenue, Farmersville, CA 93223.

Obituary:
Betty was born the fifth and last child to Carl and Maebelle Pennebaker on November 7, 1923 in Visalia. She passed away quietly at her home in Exeter on May 9, 2011.
She was named Betty Zane by her dad, after reading Zane Grey's book with that title. Being the youngest of five, she always said that she was spoiled and ornery. She married Ferrel Hayward on December 24, 1943. Mr. Hayward passed away in March of 1988.
After raising her family, she went back to school to become a teacher. She loved the 23 years she spent teaching mostly at Royal Oak Middle School in Visalia. When she retired, she became very involved in raising cattle at the Exeter and Porterville ranches, something she did until she passed away. Betty was very involved with the Farmersville Senior Center, the Farmersville Veteran's Memorial and the Farmersville Chamber of Commerce. She was also a member of the Tule Gem and Mineral Society. She is preceded in death by her husband Ferrel, three brothers, one sister and one great grandchild.
Betty is survived by two sons, Steve (Marie) Hayward of Visalia and Robby (Linda) Hayward of Daniel WY; one daughter Ferleen (John) Schultz of Exeter; one step son Jerry (Linda) Hayward of Sacramento; 10 grandchildren; 18 great grandchildren and numerous nieces and nephews.





---




Pete Slocum

- May 11, 2011 Contact this person


My sincere sympathy to the family. The Pennebakers were an amazing family. Tell Emmett HI for me. May Jesus Christ give you peace and rest during this time Pete Slocum (friend of Emmett Schultz)




---