In Memoriam : Barbara Moreno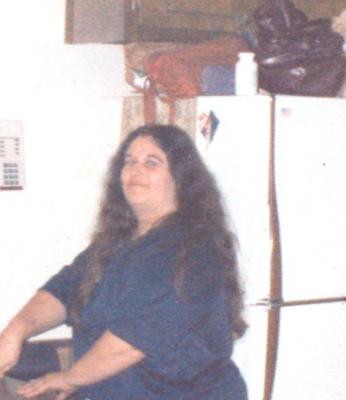 Barbara Jean Moreno - age: 54
(January 01, 1957 to May 10, 2011 )
Resident of Visalia, California

Visitation Information:
Visitation will be held on Friday, May 13, 2011 from 2:00 to 5:00 PM at Evans Miller Guinn Chapel. A Funeral Service will begin at 5:00 PM.

Obituary:
Barbara Jean Moreno, 54, of Visalia died on May 10, 2011 in Visalia. She was born in San Francisco, CO on January 1, 1957. She married the love of her life, Benjamin Moreno on January 6, 1976. Barbara worked at Bowsmith Irrigation for many years until she could no longer work. Barbara is preceded in death by her father, Edmond Sebra and mother Rita C. Lefleur; two sisters Theresa Lefleur and Debbie Sebra and two brothers Robert Lefleur and Ernest Lafleur.
Barbara is survived by one son, Eddie (Tammy) Sebra; two daughters Maria (Dante Cortez) Moreno and Teresa Moreno; two brothers Eddie (Tracey) Sebra and Paul (Rose) Sebra; two sisters Roseann Rhodes and Joann (Patrick) Murphy. She is also survived by 6 grandchildren, Aleeyah, Savannah, Adrianna, D.J., Edgar and Brooke.





---




Donna Nelson

- January 19, 2012 Contact this person


So sorry about your loss. We just found out yesterday. Please feel free to contact me.




---




Teresa Moreno

- April 24, 2016 Contact this person


Thank you Donna




---