In Memoriam : Mary Reynoso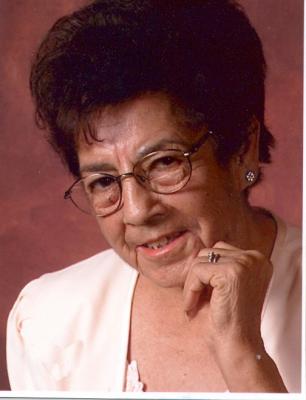 Mary T. Reynoso - age: 85
(July 21, 1925 to June 06, 2011 )
Resident of Exeter, California

Visitation Information:
Visitation will be held on Thursday, June 9, 2011 from 2:00 to 6:00 PM followed by a Rosary at 6:00 PM. Mass will be said on Friday, June 10, 2011 at 9:00 AM at Sacred Heart Catholic Church in Exeter. Burial will be in the Exeter District Cemetery.

Obituary:
Mary T. Reynoso-
Maria Louisa Torres

Mary T. Reynoso was called by her Savior the morning of June 6, 2011 in Visalia, CA. She was born July 21st, 1925 to Guadalupe and Lorenza Torres in La Habra, CA. As a child she was a neighbor to her future husband Lalo Reynoso. After marriage on August 6, 1944 they moved to Tulare County where they made their permenant residence. As their life together grew they had their first son Edward "Eddie" and their second born Salvador "Sal" and later adopted Pauline.
Her hobbies included crocheting many blankets and table clothes for her loved ones and friends, watching her husband, children, grandchildren and great-grandchildren activities. We could always tell who the biggest fan in the stand was as her grandson Rick once said "There may have been hundreds of people in the stands but the only voice he could ever hear was Grandma Mary."
She was devoted to her church and volunteered at many of the church functions. Some of the volunteer groups she helped with were the St. Vincent DePaul Center, Sister Ursela's Kitchen, and was very active in the church Jamaica's every Memorial Day and Labor Day at St. Anthony's Church in Farmersville, CA. She also helped at bingo held at St. Anthony's in Farmersville. If you ever played bingo there you will remember her burritos a treat the family always looked forward to whenever they planned a long trip. She was always willing to make them for the journey so we wouldn't go hungry. As her son Sal put it "They were like American Express, you could never leave home without them."
She was once acknowledged as The Woman of the Year at Sacred Heart Parish and also received acknowledgement from Pope John Paul II for her marriage of 50 years to Lalo. She was predeceased by her husband of 58 years Lalo (Louie) and her son Eddie
She is survived by her son Sal and daughter Pauline. Her grandchildren Eddie and his wife Karen, Rick and his wife Christina, Bryan, Rachel and her husband Shane, Christopher, Nerissa, Ernie and his wife Carina. Her great-grandchildren Erika, Achelle, Drew, Karsyn, Caleb, Cameron, Sydney, Haley and Tyce. Many nieces and nephews. Her siblings Lupe, Sal, Ray, Betty and Johnny.





---




Darryl Mueller

- June 9, 2011 Contact this person


I volunteered with Mary at Sister Ursula's Kitchen for about 9 yrars. Mary was a delightful, hard working, and religious person and I will miss her very much. On behalf of my wife and myself, I would like to pass on to Mary's family our heartfelt condolences. Sincerely, Darryl and Verlene Mueller




---




OLIVIA GALAVIZ

- June 9, 2011 Contact this person


Chavita and family: Sorry to hear about your mothers passing. She was a great person that always made time to talk to me whenever she saw me, and for that I will always be greatful. With our families growing up together there will always be the fond memories we will always cherise. Please feel the hugs I am sending and know that if I could I would be there to give them to you myself. God Bless and hopefully we will see each other soon.




---




Sal Reynoso

- June 25, 2011 Contact this person


Thank all of you for your prayers, thoughts and support, especially during her stay at Westgate. We were able to share memories and laughter with mom before she went to her eternal place with Jesus, once again reunited with Dad and Eddie. Your presence at her funeral mass, graveside service and Celebration of Life reception helped to make it an event she would have been very happy with. I know in my heart that she was looking down upon us with a big, warm smile that we all knew. I would like to thank the Ross family, the Women's Guild from Sacred Heart Catholic Church, her great friend Mary Flores, my brothers and sisters at the Eagle's Lodge for setting up tables and preparing and serving food. My daughter Rachel, son-in-law Shane, nephews Eddie/wife Karin, Rick/wife Christina, and Bryan were very helpful with mom's final arrangements. I could not have done it all without their help. A special Thank you also to Tia Betty for providing for the doves, that were released at the gravesite, symbolizing mom's spiritual ascent to Heaven along with a flock of Angels. I love you all, Sal Reynoso




---






Click to Enlarge