In Memoriam : Sharon Rowland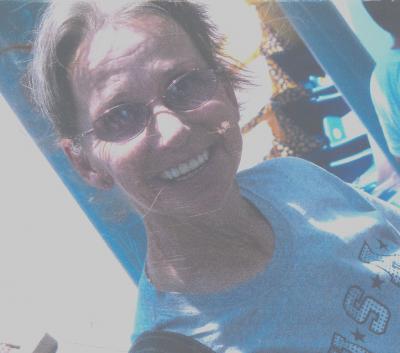 Sharon Kay Rowland - age: 55
(January 11, 1956 to July 04, 2011 )
Resident of Exeter, California

Visitation Information:
Graveside Funeral Services will be held on Friday, July 8, 2011 at 2:00 PM at the Exeter District Cemetery.

Obituary:
Sharon Kay Rowland was born on January 11, 1956 to Dortha and Leo Rader in Bellflower, CA. She moved to Visalia when she was around two. She attended Redwood High School. Beginning at a young age, Sharon was a true cowgirl. From riding horses to being tough as nails. She took the old saying "when you fall off the horse, you get back on" and applied it to every situation in life. All of her customers adored her great spirit and big heart. From her times as a cook at Shepherds Market to her last job as a Rural Mail Carrier where she worked for 10 years.
In the last year, Sharon was gifted to be a part of important milestones in each of her daughters' lives. She was able to see River, her first grandchild be born on October 29, 2010, a special gift from her daughter Tina. Her daughter Tarah was crowned Woodlake Rodeo Queen last year. As a young girl, Sharon herself ran a for rodeo queen title in Visalia. To conclude Sharon's good fortune, she was able to attend her oldest daughter, Shanna's wedding on May 28, 2011.
Sharon is survived by her ex husband and best friend Jerry Rowland, her mother Dortha Jackson and her three loving daughters; Shanna Pena, Tina Rowland and Tarah Rowland, and her youngest survivor, her eight month old grandson River Rodriguez. Out of her 4 other siblings she is the youngest and only daughter. She is survived by her twin brother Bobby Rader, and her two older brothers David Rader and Donnie Rader. She will be meeting her oldest brother Danny Rader and her father Leo Rader in Heaven.
We would like to five a special thank you to everyone who has helped Sharon and her daughters through this long journey. They received donations from many wonderful people in a time when many are struggling. They have been flooded with love and support. We mourn for the loss of an amazing woman, mother and friend, but are grateful for what she has done for us and are thankful she is now at peace.





---




Clara Morales

- July 8, 2011 Contact this person


DORTHA JACKSON & FAMILY;My deepest condolences go out to you for your loss. I will keep your family in prayer to give you strength during this difficult time. GOD BLESS & BE WITH YOU.




---




Kelly Dilbeck

- July 8, 2011 Contact this person


My thoughts and prayers are with the Rowland family. Your Mom was an awsome woman and mother she loved you all with all her heart. "Just remember when someone you love becomes a memory the memory becomes a treasure".




---




Sharon Rodriguez

- July 8, 2011 Contact this person


Tina, Tara, and Shanna, I was deeply saddened to hear of the loss of your mother. At the time the news came I was watching the fireworks with River in my arms. The first time I met Sharon her smile and eyes lit up the room and she had a personality to match. There was an instant connection between us as we shared conversation of our two children coming together and of our first grandchild, River. I noticed a bond between the three of you with your mother in the last several months, may your memories give you strength. With deepest sympathy.




---




Leann Lang

- July 9, 2011 Contact this person


Tarah, so sorry to hear of your mothers passing, our thoughts and prayers are with you and your family. Love, the Lang and Enos families




---