In Memoriam : Mercedes Harp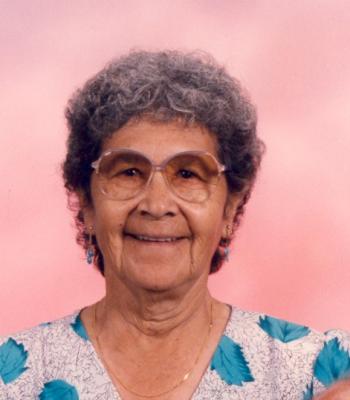 Mercedes S. Harp - age: 93
(November 06, 1917 to July 21, 2011 )
Resident of Exeter, California

Visitation Information:
Visitation will be held on Thursday, July 28, 2011 at 5:00 PM followed by a Rosary at 6:00 PM at Evans Miller Guinn Chapel. Mass will be said on Friday, July 29, 2011 at 9:00 AM at Sacred Heart Catholic Church in Exeter. Burial will follow at the Exeter District Cemetery.

Obituary:
Mercedes was born on November 6, 1917 in Mexico to Seliano and Lupe (Hernandez) Salazar. She married John Harp and they have made their home in Farmersville since 1958. Mr. Harp passed away on August 7, 2006.
Mercedes is survived by one son, Henry Harp of Farmersville; three daughters Betty Gonzalez of Corcoran, Gloria Gomez of Lindsay and Berta Enriquez of Exeter. She is also survived by 12 Grandchildren and numerous Great and Great-Great Grandchildren.





---




Estela DeLa Fuente

- July 27, 2011 Contact this person


Tia Mercedes is my aunt; she was the sister of my father Felipe. I am Estela, the oldest daughter of Felipe and Consuelo Salazar. I am so sorry to hear of the loss of your mother. She lived a good life, and I know that she is resting in peace and joy. I wish that we could have had my parents with us as long as you had yours. You were blessed to have them so many years. I pray for the rest of her soul, and pray for comfort in your sorrow. God bless all of you.




---