In Memoriam : Dale Wilson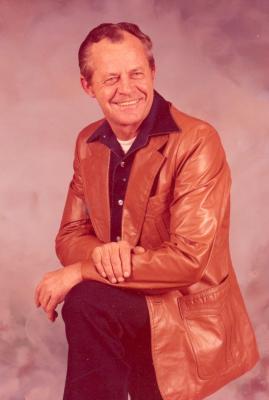 Dale V. Wilson - age: 81
(July 04, 1930 to November 01, 2011 )
Resident of Visalia, California

Visitation Information:
A Memorial Service will be held on Monday, November 7, 2011 at 6:00 PM at Calvary Worship Center, 3890 South Lovers Lane, Visalia. Burial will be at the Bakersfield National Cemetery.

Obituary:
Dale Wilson was born in Fannie, Arkansas on July 4, 1930, and passed away in Visalia, California on November 1, 2011, at the age of 81.
When Dale was eleven years old he, his parents, Cole "Doc" Wilson and Oma Rowland Wilson, and his younger brother Arzell moved to Farmersville, California. Dale attended elementary school in Farmersville and high school in Exeter. He left high school early to join the Navy, where he served on the aircraft carrier Valley Forge during the Korean War. After the Navy, Dale began a long career as an HVAC contractor. On July 9, 1957, Dale married Faye Kirkendoll and the couple had two children, Debbie and Roger.
Dale was an avid hunter and fisherman, but his greatest passion was baseball. Dale loved the Los Angeles Dodgers and watched many Dodger games at the L.A. Coliseum and Chavez Ravine. Dale played baseball until the age of 52 for several teams, most notably the Farmersville Tigers, and he coached youth baseball for many years.
Dale was a member of the Farmersville VFW, the Farmersville Lions Club, and Farmersville Little League. He was named Farmersville's Man of the Year in 1975.
Dale is survived by his wife of over 54 years Faye Wilson of Visalia, his brother Arzell Wilson and wife Floradeane of Farmersville, his daughter Debbie Wilson of Exeter, his son Roger Wilson and wife Jeri of Fresno; his grandchildren Nisha Pruitt and husband Jeremy of Lincoln, Arkansas, Cole Wilson and wife Kelsey of Springdale, Arkansas, Jeff Torosian and Michael Wilson of Fresno; and, his great-grandchildren Jacob, Keiana, Daisin, and Deegan Pruitt of Lincoln, Arkansas. Dale is also survived by Jim Armstrong, his wife Becky and their three children, whom he loved very much.
Dale was preceded in death by his parents, his niece Gayle Wilson Hale, and his "second parents" Roy and Ema Adamson.





---




Linda Wilcox

- November 2, 2011 Contact this person


I HAVE LOOKED AT ALL THESE PICTURES SUCH GOOD MEMORIES, I WENT TO SEVERAL OF THE BALL GAMES DALE,ARZEL, MELVIN ALL OF THEM IT WAS FUN, WE WERE ALL FAMILY IN THAT LITTLE TOWN OF FARMERSVILLE, DEBBIE AND RODGER WERE LIKE MY CHILDREN..DALE AN FAYE WAS AS CLOSE AS MY FAMILY IF NOT CLOSER. DALE WILL BE SO MISSED. HE WILL BE THERE WITH DADDY HIS FAMILY AND ALL THERE FRIENDS WITH ANGELS SINGING..THAT I KNOW AND HE LEFT A GREAT LEGACY, A GREAT WIFE AND HIS WONDERFUL CHILDREN AND GRAND CHILDREN, WE HAD BAD TIMES AND LOTS OF GOOD TIMES OVER THE YEARS WILL NEVER BE FORGOTTEN....LOVE YOU ALL LINDA WILCOX




---




Adrienne Senecal

- November 4, 2011 Contact this person


I'v known Dale & Faye since January 1990 when I began working for Jim Armstrong in the rental department. Dale and Faye would come by to office to say hey, Dale always had a smile on his face and a kind word for anyone he spoke with. He will be sorely missed. Love to Faye and the family and so sorry for their loss. Adrienne Senecal




---




Craig Herron

- November 7, 2011 Contact this person


I grew up with the Wilson family and Dale was a big part of my childhood. I attended school with Roger and played baseball on teams coached by Dale. He was a great role model and family friend. Our deepest sympathy for the Wilson Families loss. God bless.




---






Click to Enlarge