In Memoriam : Jesse Robinson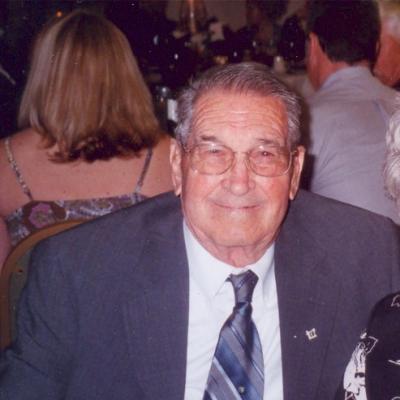 Jesse W. Robinson - age: 79
(June 28, 1932 to March 16, 2012 )
Resident of Exeter, California

Visitation Information:
Graveside Services will be held on Friday, March 23, 2012 at 10:00 AM at the Exeter District Cemetery.
Remembrances my be sent to the National MS Society, Attn. Tribute Memorials, 1700 Owens Street, Suite 190, San Francisco CA, 94153, or to the Arthritis Foundation, at www.arthritis.org (800) 283-7800 in Jesse's name.

Obituary:
Exeter lost a vital member of its community Friday, March 16, 2012 with the passing of Jesse W. Robinson. Jesse was born in Locust Grove, Oklahoma on June 28, 1932 to Ida and Henry Robinson. His family moved to California in 1940. He attended Exeter Union High School and was a member of the Class of 1950. An athletic teen, he lettered in four sports each of his four years in school. In 1950, he married his high school sweetheart, Jean Legg. Together, they raised their three children, DeWayne, Sherry and Randy.
He was employed by Knudsen Kraft as a salesman for 37 years. Mr. Robinson was a family man who loved being involved with his children. When his daughter was in Rainbow Girls, he was on the advisory board. Jesse was the senior advisor for Boy Scouts Explorer Post 25 for eight years. He coached the boy's Little League and Colt League teams for several years. Jesse and Jean hauled go-carts around the state so their boys could enjoy their love of racing. Mr. Robinson enjoyed racing motorcycles. As a family, they traveled, camped, boated, fished and enjoyed NASCAR racing on the television together.
As a citizen of the town he adored, Mr. Robinson was a former Mayor and City Councilmen of Exeter. He was a member of the Masonic Lodge Number 424, as well as a Past President of the Exeter Police Reserve. He was a member of the Visalia Ramblers and also a past President of the Classic Thunderbird Club #83. (Maybe you remember that yellow '55 t-bird in various parades and events.) Later in life, with his love of travel, he and his wife became member of the Cross Country R.V. Club. Mostly the enjoyed their second home they purchased on Grand Lake in Grove, Oklahoma. The couple traveled there twice a year with their beloved cocker spaniel, Sherre'. While there, they hosted Jean's sister Chris and her husband, Dale Cannon from Mansfield, Missouri. The couples fished on the lake for hours and delighted in the wildlife that was abundant in the area.
Mr. Robinson is survived by his wife, Jean; daughter and son-in-law Sherry and Jim Turner; son and daughter-in-law Randy and Mert Robinson. He was preceded in death by his son, DeWayne Robinson. He also leaves behind his grandchildren and step grandchildren and their families; Brent and Frances Robinson and children Arrica, Natasha and Brandon, Courtney Robinson, Shannon and Steve Lera, Stacey and Emil Cimoli and children Max, Enzo and Sienna, Jamie and Alyssa Turner, Abram and Mandy Wallis and children Ella and Adeline, Nathan and Loni Wallis and children Reid and Julia, and Spencer Wallis and girlfriend Monica Santillan.





---




Robert Ruiz

- March 28, 2012 Contact this person


Dear Mrs. Robinson, Randy and Sherry. I am so sad to hear that Mr. Robinson has passed away. He was a good man and very nice to all of us. He will be missed by many former EUHS graduates. My family and i will pray for him.




---






Click to Enlarge