In Memoriam : George Van Dyke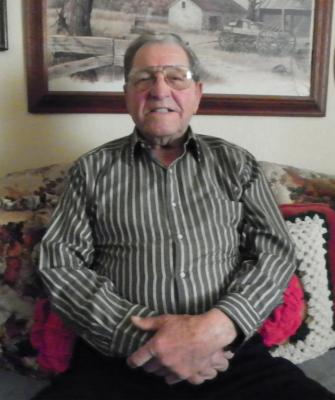 George Van Dyke - age: 90
(October 12, 1921 to April 14, 2012 )
Resident of Exeter, California

Visitation Information:
Visitation will be held on Wednesday, April 18, 2012 from 2:00 to 6:00 PM at Evans Miller Guinn Chapel. Funeral Services will follow on Thursday, April 19, 2012 at 2:00 PM also at Evans Miller Guinn Chapel. Burial will be in the Exeter District Cemetery.

Obituary:
George Van Dyke was born to Harman and Emma (Jager) Van Dyke in Burke, SD on October 12, 1921. He moved to California in 1941. Once here, he married Oneda and they made there home in Farmersville. He traveled with the field work until he got a job with Waterman's Foundry. He worked many jobs there and lastly was a Production Scheduler, working with Waterman's for 35 years. He later married Lois Usrey. He loved his farming and being on the tractor. George was very good with his hands. He built his home and was proud of that. He is preceded in death by three brothers, Jacob, Henry and Albert; three sisters Jessie, Matilda and Dorothy as well as his parents.
George is survived by his son, Tommy Ray Van Dyke and wife Anna of Exeter; two daughters Joann Van Dyke-Martino and husband Jim of Exeter and Susie Van Dyke-Faulkner and husband Lee; one brother Clarence Van Dyke of Hayti MO and one sister Mary Foster of Hayti MO. He is also survived by 5 Grandchildren, 8 Great Grandchildren and 5 Great-Great Grandchildren.





---




Dina Faulkner-Werner

- April 16, 2012 Contact this person


Rest in Paradise Papa! You are one in a million! Gone, but never forgotten.




---




Genny Whitt

- April 17, 2012 Contact this person


Susie and Family, I am so sorry for your loss. My thoughts and prayers are with you.




---




Maggie Beall

- April 17, 2012 Contact this person


I will cling to the precious memories of an uncle I adored, for words can't describe the sorrow. Susie, Joann and Tommy, may you be comforted in knowing he is Heaven where there is more love than we know.




---




Gayleen Baxter

- April 17, 2012 Contact this person


What an asset to heaven my Papa will be they truely have some amazing angels up there now I see you and granny and g-ma Devin Lee and Dan looking over us and im with peace in my heart knowing y'all are in a better place and someday I will see y'all agian Papa my heart has a big hole in it right now so hard to let go for you have been the BIG rock for us all to lead and make you proud... My visit a few weeks ago was worth all the money in the world to hug you and tell you I luv you....You was one of two heros in my life you n my dad and I will miss you everyday for the rest of my life thank you for all the things you have installed in each one of us... your granddaughter Gayleen...




---




Lora Jean Guerra

- April 18, 2012 Contact this person


Joann, Tommy and Susie. Lately I've been reminiscing about our family trips to the coast. It was Dad, Mom and Uncle George and all of us kids..we would all pile in their campers and go to Morro Bay. Those are some of my greatest memories. I'm going to miss you Uncle George.




---






Click to Enlarge