In Memoriam : Juan Morales, Jr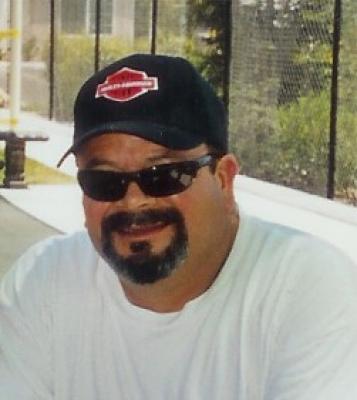 Juan Morales, Jr - age: 52
(March 31, 1960 to May 01, 2012 )
Resident of Exeter, California

Visitation Information:
Visitation will be held on Tuesday, May 8, 2012 at Evan Miller Guinn Exeter Chapel from 2:00 to 6:00 PM. Funeral Services will be held on Wednesday, May 9, 2012 at 10:00 am in the chapel. Burial will follow at Smith Mountain Cemetery, Dinuba, CA.

Obituary:
Juan Morales Jr. was born in Dinuba CA on March 31, 1960 to Juan Morales Sr. and Amanda Lara. He attended Orosi High School and North High in Salinas. He has lived in Exeter for 10 years. Juan was working for Keystone Freight as a Truck Driver. He loved to hunt and fish and was an avid 49'er fan. He also loved his dog Dee-Dee.
Juan in survived by his mother and step father Amanda and Al Lara, his father and step mother Juan and Teresa Morales Sr.; his companion of 11 years Vangie; two sons Justin and Joseph Morales; one daughter Erica Morales; two brothers Joel Morales and wife Olivia, Albert Morales and wife Martha. He is also survived by numerous nieces and nephews.





---




Janie Ramirez

- May 3, 2012 Contact this person


Johnny, I will miss you, your smile, the love you had for our family and your BBQing skills. I always enjoyed the time you spent at our Home in Huntington Beach. I had hoped that someday you would take me fishing with my Grandson. I will have to do that on my own, but will think of you when that day comes. You were one of the few fishermen that I knew. I had hoped to have you at out home for a quite recooperation period. I will miss that as well, I know you wanted to come down and relax. Save a place for us when our time comes so we can all be together again. My condolences go out to my Sister Vangie, I know she loved you dearly. I will miss defending you when you would come home from a Drive as Vangie would have a list of things for you to do. My heart also goes out to your Mother, Father, Children, Siblings and your many relatives, we all will miss you!




---






Click to Enlarge