In Memoriam : Wanda Gilbert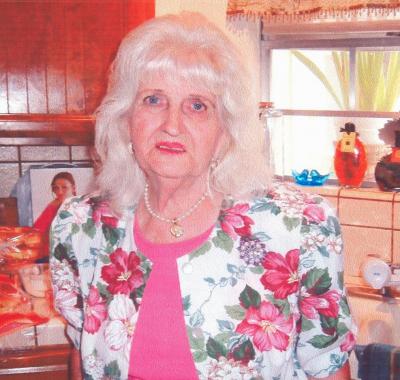 Wanda Loene Gilbert - age: 88
(May 05, 1924 to August 15, 2012 )
Resident of Exeter, California

Visitation Information:
Visitation will be held on Thursday, August 23, 2012 at Evans Miller Guinn Chapel from 2:00 to 6:00 PM. Funeral Services will held on Friday, August 24, 2012 at 10:00 AM at the Chapel. Burial will be in the Exeter District Cemetery.

Obituary:
Wanda Loene Gilbert was born on May 5, 1924 and passed away on August 15, 2012 at the age of 88. Wanda was born in Berryville, AK to Sheridan Plumlee and Paralee Hutchinson, the youngest of 5 children.
Wanda had an early appreciation for music. At a very young age she began to teach herself how to play guitar by ear. She would sing and play her guitar in church, and continued to do so well into her senior years. Her family has so many wonderful memories of her singing beautiful Christian hymns while playing her guitar.
She was a devout Christian throughout her life, and was instrumental in teaching her children, grandchildren and great-grandchildren the Word of God. Anyone who knew Wanda could feel the love she had for our Lord and Savior, Jesus Christ.
Wanda married Floyd Gilbert in 1946, and had 2 daughters; Wilma Loene Gilbert and Freda Sue Gilbert – who also shared their parents love of music and the church.
Wanda has been a resident of Exeter, CA since she was 10 years old, and was a retired Housekeeper for various families in Exeter, as well as Exeter Memorial Hospital. She is survived by her daughter Sue Gilbert, having lost her eldest daughter Wilma Shakelford in 2009. She also leaves behind 4 grandchildren, 9 great-grandchildren and 2 great-great grandchildren, as well as many nieces and nephews. She will be deeply missed by her family and friends.





---




Linda Coffee

- August 22, 2012 Contact this person


Aunt Wanda, I am so glad I got to see you before you passed on to your New Life. I am so excited for you to be with your family again. You told me you were tired and wanted to just go to sleep and now you have and you will be tired no more. I Love You Aunt Wanda and some day will will visit again.




---