In Memoriam : Olga Delayo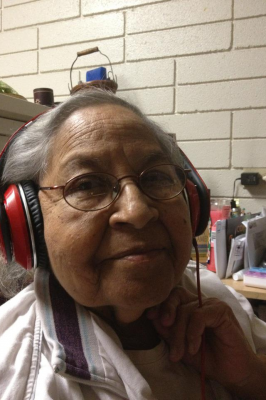 Olga Jenny Delayo - age: 77
(February 20, 1935 to October 26, 2012 )
Resident of Exeter, California

Visitation Information:
Visitation will be held on Thursday, November 1, 2012 from 1:00 to 4:00 PM at the Seventh Day Adventist Church, 600 Lenox St, Exeter. Funeral Services will follow at 4:00 PM at the Church. Burial will be on Friday, November 2, 2012 at 10:00 AM at the Exeter District Cemetery.

Obituary:
Olga was born on February 20, 1935 in Los Angeles to Phillip J. and Ramona (Rodriguez) Duran. After attending College of the Sequoias in Visalia, she worked as a LVN at the Exeter Memorial Hospital for 17 years. She was a member of the Exeter Seventh Day Adventist Church, where she was very active. She gave everything to her family and her church.
Olga is survived by her children, Rachel L Schapansky of Exeter, Olga B Sutton of Visalia, Felicia R. Silvas of Exeter and Manuel Delayo Jr. of Lindsay; Nine grandchildren, Jason Schapansky, Jennifer Delayo, Michael Schapansky, Eric Sutton, Rochelle Sutton, Vanessa Delayo, Hunter Silvas, Victor Silvas III, and Elogia Silvas; one Great Granddaughter Milliana Nevaeh Sutton; Two Sisters and her dog, Itchie Delayo.