In Memoriam : Genevieve Chase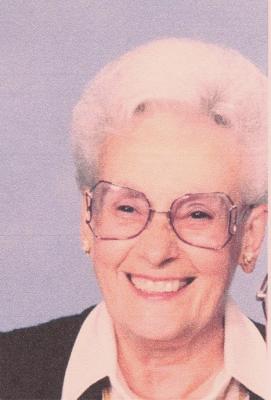 Genevieve Mary Chase - age: 94
(May 08, 1918 to November 29, 2012 )
Resident of Exeter, California

Visitation Information:
Visitation will be held at Evans Miller Guinn Exeter Chapel on Tuesday, December 4, 2012 from 2:00 to 6:00 PM followed by a Rosary at 6:00 PM at the Chapel. Mass will be held on Wednesday, December 5, 2012 at 9:00 AM at Sacred Heart Catholic Church, 417 North E Street, Exeter, CA. Burial will be in the Exeter District Cemetery.

Obituary:
Mother left this world into the arms of our Heavenly Father on November 29, 2012. She was the only child born to Alexander and Bertha Szeles on May 8, 1918, in Greentree, PA. She was 94 years young. She spent her childhood in South Norwalk, CT, where she attended schools and met her husband of 49 years, Stephen J. Chase.
Gen moved to Southern California in 1942 with her eldest son, Richard. She was joined by her husband in 1945. They had two more children and in 1951 moved to Exeter. Gen worked for 22 years at Wilson and Lincoln School in the cafeterias, from which she retired in 1981. She also worked for Drs. Richard and Mary Lu Hickman for several years as a cook and housekeeper while their children were growing up.
She was a member of the Sacred Heart Catholic Church in Exeter, was Woman of the Year in 1986 and the first lay female Eucharistic Minister for the church, when Msgr. Joseph Balker was pastor. She was a lifetime member of the Sacred Heart Woman's Guild.
She loved taking care of her irises and roses. When they were in bloom she would love to show them off, taking them to others to share their beauty.
Gen is preceded in death by her husband, Stephen J. Chase and her son Richard S. Chase. She is survived by a son, Thomas (Linda) Chase of Dobbins, CA and a daughter Stephanie Sera of Exeter, CA. She is also survived by four grandchildren and 16 great grandchildren.
We would like to thank the staff of Casa Grande Senior Care, in House 2, for their care of mother over the past 4 years and special thanks to the wonderful staff of Kaweah Delta Medical Center, 4 South and especially Dr. Nadia Lupercio for her advice and care of mother. Special thanks also to Hospice of Tulare County at Quail Park in Visalia for mother's care the last months.
In lieu of flowers, please make donations in mother's name to Hospice of Tulare County, 400 West Oak Street, Visalia, CA 93291 or to www.kaweahdelta.org.





---




Carole Wood

- December 1, 2012 Contact this person


Stephanie, my thoughts and prayers are with you and your family. She is in no pain now. Carole




---