In Memoriam : Camilo Sigala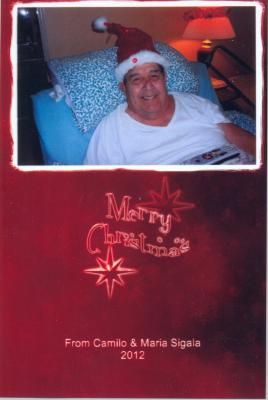 Camilo Sigala - age: 76
(August 03, 1936 to December 27, 2012 )
Resident of Exeter, California

Visitation Information:
Funeral Services will be held on Thursday, January 3, 2013 at 10:00 am at Evans Miller Guinn Chapel. Burial will follow at the Exeter District Cemetery.

Obituary:
Camilo Sigala passed away on December 27, 2012 at the age of 76. He was born on August 3, 1936 in Watsonville, California to Camilo and Anna (Romero) Sigala. Camilo lived and worked in Los Angeles for Reynolds Aluminum Supply Company as a Foreman for 32 years. He retired and resided in Exeter.

Camilo is survived by his wife of 39 years, Maria Sigala, 5 living children, 19 grandchildren, 17 great grandchildren. He will be greatly missed and will always be remembered.