In Memoriam : Shirley Ipox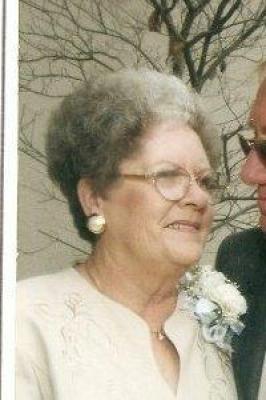 Shirley J. Ipox - age: 76
(September 12, 1936 to May 23, 2013 )
Resident of Exeter, California

Visitation Information:
Visitation will be held on Monday, May 27, 2013 from 2:00 to 6:00 PM at Evans Miller Guinn Chapel. Graveside Services will be held on Tuesday, May 28, 2013 at 2:00 PM at the Exeter District Cemetery.

Obituary:
Shirley Ipox passed away about 12:30 PM on May 23, 2013. She was born Shirley Rowland in Fannie, Arkansas on September 12, 1936 to Ruey and Viola (Noles) Rowland. She was born into a family of 5 sisters and 3 brothers. The family later moved to Farmersville, CA when Shirley was very young. She is preceded in death by 4 siblings, Dovie Adams, Archie Rowland, Jake Rowland and Jewel Gamble.
In 1954, Shirley married Don Faulkner, out of that marriage they had three children. She later married Gene Ipox gaining 4 step children.
Shirley is survived by her husband of 41 years, Gene Ipox; two sons Ronald Dale Faulkner and Dewayne Reese Faulkner and one daughter, Brenda Sue Molar; four step children, Tammie Rene Peel, Gene Ipox Jr., Debra Ann Ipox and Michael Allen Ipox; one brother Darrell Rowland; two sisters Marjorie Curtis and Nellie Miller. She is also survived by 22 grandchildren including 2 of which are deceased, 20 great grandchild and 2 great-great grandchildren, many nieces, nephews, cousins and friends. Shirley will be greatly missed.
The family would like to thank the Staff of Linwood Meadows for the tender loving care that they gave to Shirley.





---




Genny Whitt

- May 24, 2013 Contact this person


Brenda and Family, I am so sorry for your loss. My thoughts and prayers are with you all. Genny Newell-Whitt




---




Lori Collins

- May 24, 2013 Contact this person


Aunt Shirley was loved by so many God Rest Her Beautiful Soul. Peace Be with you, Uncle Gene, Ron, Dwayne, and Brenda. Lori




---




Ramiro Ochoa

- May 28, 2013 Contact this person


MY CONDOLENCES TO GENE AND THE IPOX FAMILY. RAM OCHOA




---