In Memoriam : JoEllen Huffman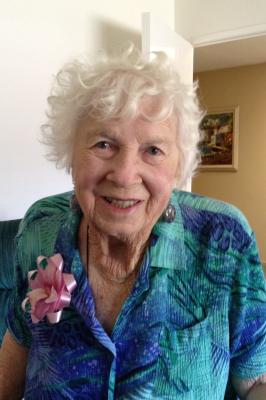 JoEllen Huffman - age: 85
(June 17, 1928 to September 05, 2013 )
Resident of Exeter, California

Visitation Information:
Celebration of Life will be at 1:00 PM Saturday, October 19, 2013 at The Exeter Women's Club for JoEllen Huffman, 85, of Exeter, CA

Obituary:
JoEllen was born in Kansas City, Missouri to Garnett and Gertrude Parsley. She graduated from Paseo High School in 1945 and worked for Transcontinental Airlines (later known as TWA). She traveled to Cuba before marrying William (Bill) R. Huffman February 16, 1952. They moved to Exeter, California in 1953 where the Parsley/Huffman family began their orange grove and she lived on the ranch until her move to the Manor House in 2010. JoEllen was very active in the Exeter Woman's Club for over 50 years, Sit & Stay Fit Exercise Class for 20+ years & Lion's Club with Bill for 30 years. She loved God, her family, friends & community, the color pink, chocolate, the beach, scrapbooking, as well as keeping up with current events & celebrities. JoEllen's passion & appreciation for life continues on through all who know her.

Our family is very thankful for the love & support from everyone. JoEllen is survived by her Son Gary (Kim) Huffman; Daughter: Gay Huffman; Grandchildren: Brianne (Jonathan) Ice, Scott Huffman. Renee Bennett, Lisa (Brian) Underwood, Sally Wouters, Joseph (Sarah) Underwood; Great Grandchildren: Griffin & Owen Ice, Amanda Bennett, Kelton Underwood, Ethan, Gunnar & Barron Wouters, Emma Underwood.

Private arrangements made by Evans Miller Guinn Chapel. In lieu of flowers, donations may be made to The Manor House, 710 Lenox St, Exeter, CA 93221 or the Exeter Women's Club, PO Box 352, Exeter, CA 93221.





---




John Guinn

- September 16, 2013 Contact this person


JoEllen was always flashing that infectious smile. She was a good friend and will be missed.




---