In Memoriam : Zola Hadley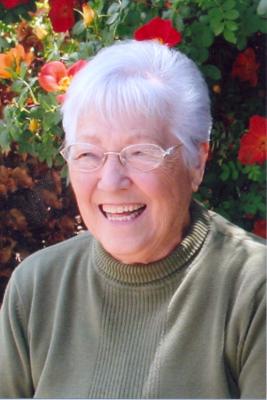 Zola R Hadley - age: 91
(September 10, 1922 to February 27, 2014 )
Resident of Visalia, California

Visitation Information:
Visitation will be held on Monday, March 3, 2014 from 4:00 to 8:00 PM at Evans Miller Guinn Chapel. Funeral Services will be on Tuesday, March 4, 2014 at 1:00 PM at Chapel with burial following in the Exeter District Cemetery.

Obituary:
Zola went home to be with Jesus on February 27, 2014. She leaves behind her 6 children, David Dollar (Susan) from Santa Paula, California; Brenda Ballinger (Clarence) from Dinuba, California; Marsha Crockett (Dale) from Nampa Idaho, Gina Chambers (Kenny) from Dayton, Nevada, Dale Hadley (Katy) from Minden Nevada, Gary Hadley (Vicky) from Antioch, California, her sister Delores Thayer from Visalia California along with 13 grandchildren, 13 great grandchildren and 2 great great grandchildren.
She is preceded in death by her first husband Floyd Dollar and second husband Earnest Hadley along with great grandson, Mason Dollar.
She is with her Lord and Savior now who she has looked forward to seeing most of her life. She attended Visalia First Assembly of God church where she was active in volunteer ministry. We remember her full of love, life, fun and laughter. She enjoyed life to the fullest. She raised her children mainly in Fillmore, California but lived in Central California and trail, Oregon the rest of her time. Some of the many things she enjoyed were camping, fishing, cooking and puzzle solving.
She lived in Visalia, California the last 10 years where the last 4 years she lived in the Walnut Park Assisted Living Apartments where she was very active socially until her time of death.





---




Lori Leach

- March 1, 2014 Contact this person


My memory of Aunt Zola is a clean one. Clean floors and clean bathrooms smelling of Dove soap. A clean kitchen with mufti-colored aluminum cups, the color that she would let me choose each time I was thirsty. I asked for water just to get to choose a color and to see her smile knowing I was wanting to see them. The light and love she had for others and for her Lord Jesus, more than the love she even had for herself. Watching her build and raise a blended family with hugs and love, so many personalities, so many challenges and an ever wise smile and never ending love in her heart. She had a clean heart, created in her by the very Lord that she serves. She was and is the very kind of person that I always hope to be, loving and giving. Full of light and love and knowing God's grace. God's grace for herself as well as everyone else he ever made. Grace that lets her be clean in the presence of the Lord. I pray that Jesus lets you meet me when I come! Until then Godspeed and party like a Tucker! Light and love!




---




Tammy Moffat

- March 2, 2014 Contact this person


Nana, I love you with all my heart! You were a wonderful Nanny! I have so many wonderful memories of you! I learned so much from you! I look forward to the day we meet again in Heaven! I love you! Tammy




---






Click to Enlarge