In Memoriam : Donald Fulbright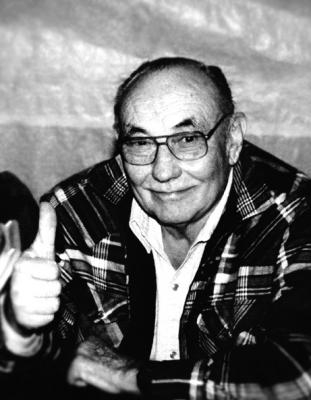 Donald Lee Fulbright - age: 77
(May 24, 1932 to November 06, 2009 )
Resident of Exeter, California

Visitation Information:
Memorial Services will be held on Saturday, November 21, 2009 at 10:00 am at Evans Miller Guinn Exeter Chapel.

Obituary:
On November 6, 2009, at the age of 77, Donald Lee Fulbright passed away in the presence of his family due to an illness complicated by respiratory problems. He was a local orange grower born and raised in Lindsay, California. Don grew up on a citrus ranch, and enjoyed riding horses to visit the neighbors. He attended Lindsay High School, participated in FFA, basketball, football, and tennis where he won a Valley Championship title in Doubles Tennis his senior year. During his senior year while playing mixed doubles with Anita Carr, Don served wildly and hit Anita between the shoulder blades causing a huge welt that forced them to stop play. Don felt so bad about inflicting this injury that he came by her house later that day to apologize... and ended up asking her out on a date. This was the beginning of a lifelong love and golden marriage of 58 years. That was the best wild serve Don ever made.

Don graduated from Lindsay High School in 1950 and attended College of the Sequoias. On December 8th, 1951 Don married his high school sweetheart Anita Carr and shortly thereafter enlisted in the US Navy. He served as an Aviation Machinistís Mate Second Class on the USS Kearsarge Aircraft Carrier and at the Naval Base in San Diego. In 1952 while in San Diego, Don and Anita had their first baby, Donald Lawrence Fulbright at the Coronado Naval Hospital. Don was honorably discharged in November 1954. Returning home to Lindsay, Don bought his first 20 acres of oranges from one of his former Lindsay High School teachers thus continuing the family heritage of citrus ranchers.

In the early years while growing citrus, Don took on a second job with the Lindmore Irrigation District. A few years later he stopped working for the District, but his experience dealing with water related issues gave him the ability to serve as a board member.

On Christmas morning of 1955 Don and Anita celebrated the birth of their second child, Carol Marie Fulbright. Don and Anita proudly raised their children providing the same benefits and responsibilities of living on a ranch they had while growing up. Both children attended Sunnyside Elementary School in Strathmore. In February of 1965 while the entire family was at a Spaghetti Feed fund-raiser at the school, their ranch house burned to the ground. The Fulbrights found themselves temporarily displaced and rented Quonset hut nearby so they could stay close to the ranch. Don wasted no time rebuilding a home for his family; in record time they moved into the new home in September of the same year, a feat not easily accomplished today.

Don worked hard as a citrus rancher and eventually saw the fruits of his labor. After a few good years he was able to purchase the property across the street then farmed as cotton and corn. Each year he would continue working this new land with row crops. In the good years Don would convert ten acres at a time to oranges until he got it all planted.

Donís citrus farming would continue to expand when his father, Albert Lee Fulbright, retired and Don took over the farming responsibilities. Later he purchased the property. It would expand again when Don purchased Harold Carrís, Anitaís father, ranch. In a cooperative effort, Don farmed the land while both families remained on the ranch in their family homes.


Don was very active in the community. He coached his sonís Little League team, was a member of the Porterville Lions Club, California Citrus Mutual and the Central California Tristeza Eradication Agency Citrus Board.

Once Don and Anita had an empty nest, they joined the Tulare County Family Travelers Motorcycle Touring Club. During their 15 years of motorcycle adventures they visited numerous scenic areas throughout the Western United States including the Grand Canyon and Old Faithful. Don and Anita also proudly participated in several charity rides including the annual Toys for Tots drive.

Donís past times included snow & water skiing, tennis, welding, meteorology and keeping tabs on the stock market. During their retirement years, Don and Anita enjoyed the serene beauty of their cabin at Shaver Lake. In 1999, they bought a home in Exeter where Don and Anita currently reside.

Donald Lee Fulbright was a proud, successful, hard working man who lived a long fulfilled life. He is survived by his loving wife Anita Carr Fulbright; son, Donald Lawrence Fulbright and his wife Mary; daughter, Carol Fulbright Stonecipher; sister, Edna Green Conway and her husband Roman; grandchildren, Andrea Fulbright Santos and her husband Joe, Allison and Anissa Fulbright, Sherry Stonecipher-Grimes and her husband Matt, Melissa and Wayne Stonecipher; great-grandchildren, Jacob Santos and Carter Grimes and a beloved extended family.

A Memorial Service for Don will be held on Saturday, November 21, 2009 at 10:00am at Evans Miller Guinn Exeter Chapel, 425 North Kaweah Avenue, Exeter. A reception to follow for attendees of the service and close friends and family. In lieu of flowers, donations may be made to any Veterans group or your favorite charity.





---




DONALD-- (LARRY) LAWRENCE FULBRIGHT

- November 14, 2009 Contact this person


When someone you love becomes a memory --that memory becomes a treasure-- I will miss you Dad




---