In Memoriam : Glayds Murch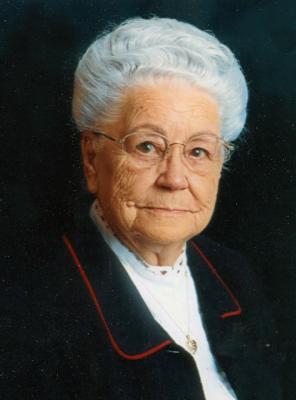 Glayds Effie Murch - age: 83
(September 24, 1926 to November 08, 2009 )
Resident of Tulare, California

Visitation Information:
Funeral services will be held on Tuesday, November 17, 2009 at 10:00 a.m. at the Tulare District Cemetery on Kern Street

Obituary:
Gladys will be laid to rest at a Graveside Service on Tuesday, November 17, 2009 at Tulare District Cemetery in Tulare, California, under the direction of Evans Miller Guinn Exeter Chapel.
Gladys Effie Murch was born to the late Lloyd Dow Overacker Sr and Virgie (Smith) Overacker, on September 24, 1926, in Gardena, CA. She had two brothers, Irving and Lloyd; and three sisters, Ruby, Mary Lou and Margie. Gladys was baptized into the General Assembly and Church of the Firstborn on May 15, 1941. She married Harvey Murch on July 29, 1944. To this union were born eight children: Charles, Linda, Gary, Dennis, Carol, Judy, Jerry and Vickie. They were married for thirty-one years.
Gladys was a homemaker. She loved being a wife and a mother. She enjoyed crocheting baby blankets for her children and grandchildren, attending church services and church dinners. She enjoyed going to luncheons with the sisters from church, playing dominos, taking pictures and making photo albums, and she especially enjoyed cooking for her family and for the brethren. If you were ever in her home, then you know she was determined to feed you something and she would not stop offering until she did. The majority of her life was spent in California. After Harvey passed away in 1975, Gladys got her first job working outside her home, at Josten's Yearbook. A few years after her daughter Vickie's marriage to James LaRue, Gladys moved in with them as they wanted to help care for her. She lived with them for approximately 20 years in Tulare, CA, until Vickie's death in February 2008. Gladys suffered a stroke in October 2007 and was just recovering and learning to walk again when she had a bad fall in January 2008 and injured her hip. The last few years she spent sitting and sleeping in a recliner. She said she never had to go to bed, because she was always in it. She was a loving sister, mother and grandmother. If you needed prayer she was always faithful to offer one up for you. She spent her lifetime praying for her children and grandchildren. Her last words were in a prayer and she prayed "Lord help me do this and Lord give me rest". We believe that He granted her request and that she is now at rest with the Lord.
Gladys Murch departed this life on Sunday, November 8, 2009 in Welling, OK, at the age of 83. She was preceded in death by her mother and father, brothers Irving and Lloyd, sisters Ruby and Mary Lou, husband Harvey, son Jerry, daughter Linda, daughter Vickie, and several grandchildren.
She is survived by one sister, Margie and husband Darrell Brown of Sapulpa, OK; five children, Charles Murch and wife Delores of Visalia, CA, Gary Murch and friend Judy Cain of Cushing, OK, Dennis Murch and wife Janet of Tryon, OK; daughters, Carol and husband Harold Stevens of Stillwater, OK, Judy and husband Randy Ward of Welling, OK; and son-in-law, James LaRue of Cortez, CO. She is also survived by twenty-five grandchildren, forty-two great grandchildren, three unborn great grandchildren and one unborn great-great-grandchild; as well as many nieces and nephews, brethren and friends.

Condolences may be sent to the family at www.evansmillerguinnchapel.com. Services entrusted to Evans Miller Guinn Exeter Chapel.





---




Dana LaPierre

- December 3, 2009 Contact this person


I was so sad to hear about Gladys, please accept my condolences. I only recently was trying to find my very good high school friend Vickie when I found Gladys' obituary. That is when I read that Vickie has also passed. My heart is so sad to know that Vickie's mom had passed but that I have also lost a dear friend. Please if someone could contact me as I would like to know what happened to my friend Vickie. Thank you, Dana (Crenshaw) LaPierre




---