In Memoriam : Germaine De Craemer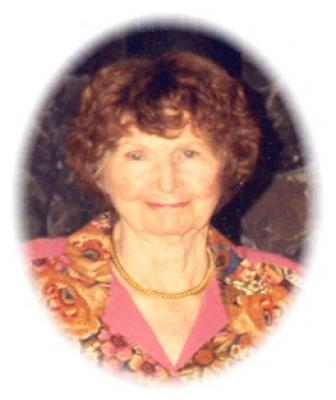 Germaine "Fluff" De Craemer - age: 101
(September 05, 1912 to August 21, 2014 )
Resident of Tulare, California

Visitation Information:
Visitation will be held on Tuesday, August 26, 2014 from 2:00 to 6:00 PM followed by the Rosary at 6:00 at Evans Miller Guinn Chapel in Exeter. The Mass of Christian Burial will be celebrated at St. Mary's Catholic Church, Visalia on Wednesday, August 27, 2014 at 10:30 AM. Burial will be private in the Exeter District Cemetery.

Obituary:
Germaine "Fluff" De Craemer was born in Long Beach, CA on September 5, 1912 to Camiel and Laurine (VanSteenberge) Cauwel. She was a loving wife, mother, grandmother, great grandmother and great great grandmother. Germaine passed away on the family ranch on August 21, 2014 in Tulare.
Germaine was a hard worker with a strong personality, coming from her European-Belgium roots. She worked side by side with her husband on the farm. They farmed in Southern California and Arizona before coming to Tulare in 1955. She was very proud of her heritage and was extremely family oriented. She and her husband Andre loved to entertain both family and dear friends. With her strong forward attitude and solid catholic values, she made many friends.
Her daughter Lauraine, granddaughter Tamra and great-granddaughter Mekenna cared for her during the past 8½ years. Lauraine and Tamra were by her side when she passed peacefully. Germaine is preceded in death by her husband of 58 years, Andre De Craemer in 1992 and her beloved son Robert De Craemer in 2012.
Germaine is survived by her daughter Lauraine (Calvin) Hettick; her grandchildren David (Trisha) Hettick, Tamra De Craemer, Tricia (Clyde) Reeves and Daron (April) De Craemer; her great grandchildren Jason (Melissa) Hettick, Ashley Hettick, Shane Hettick, Alyssa Reeves, Mekenna De Craemer, Courtney Reeves, Wyatt De Craemer, Holly De Craemer and Brandy Montgomery. She is also survived by her great great grandchildren; Kaleigh Hettick, Riley Hettick, Gabriel Hettick, Austin Hettick and Aubrey Hettick.
The family would like to express their appreciation for the assistance to Kaweah Delta and Optimal Hospice Care. The family would also want to extend a special thank you to Becky Olsen for her extra support and care. Fluff was such a wonderful person. She will be greatly missed by all.





---




Sandra Hughan

- August 26, 2014 Contact this person


My sincere condolences to the family. Tamra, thanks for letting me know.




---