In Memoriam : Reba Heatherly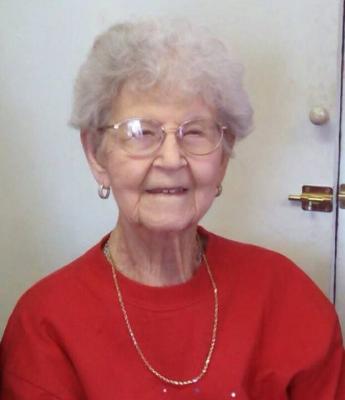 Reba Rosetta Heatherly - age: 101
(February 25, 1913 to February 23, 2015 )
Resident of Exeter, California

Visitation Information:
Visitation will be held on Tuesday March 3, 2015 from 2:00 to 6:00 PM at the chapel. Graveside Funeral Services will be held at the Exeter District Cemetery on Wednesday, March 4, 2015 at 2:00 PM.

Obituary:
Reba Campbell Heatherly passed away two days before her 102 Birthday. Exeter was her home for seventy three years. She was born in Macomb, Mo. Her first husband Charles Campbell passed away in 1989. She remarried in 1993 to Alfred Heatherly. He passed away in 2010. Reba was the mother of three children, her oldest daughter, Wanda Heatherly who she lived with for the past five years in Exeter; a son N.D. Sargent of Exeter, and Erma Fackler, her youngest daughter who passed away in 1993; a sister Loretta Hall of Macomb MO who is the last of 12 siblings. She is also survived by 12 grandchildren, 13 great grandchildren and 16 great-great grandchildren, 1 step grandson Howard Fackler of Exeter and 3 step great grandchildren. Mom loved her Savior and she loved all her many friends. She was loved by many. Reba also wrote two books at the age of 101 that were published.





---




Candy Hall-Johnson

- February 28, 2015 Contact this person


Heaven gained another beautiful angel. May you rest in peace Aunt Reba. You will be missed.




---




LAUREL HALL

- February 28, 2015 Contact this person


Aunt Reba was a special lady...beautiful both inside and out. We really enjoyed being with her for her 100th birthday celebration two years ago and were looking forward to celebrating again next week for her 102nd birthday. However, we know she is now celebrating in Heaven with other family members. Aunt Reba left her family the best gift that she could give...her book on family life during the depression! Her memory was unbelievable which amazed us...she told us stories of her past life. So glad that she left us this book that gives us so much family history. Love You Aunt Reba!




---




Rosario Castaneda

- March 3, 2015 Contact this person


Reba was such an awesome lady and my family is proud to have come to know her. The past 40 years that we have known her she was always a vibrant and loving person. As my children grew up going to her ceramic shop, they called her Grandma. She would tell us her stories of when and how she came to California which were so amazing. I am glad to know she wrote a book on her experiences. We shall always remember her. "Those we love don't go away, they walk beside us everyday. Unseen, Unheard, but always near, still loved, still missed and very dear." From the Castaneda Family




---