In Memoriam : Erminia Jauregui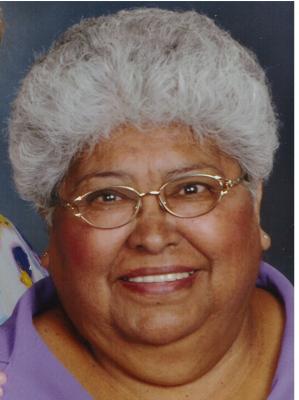 Erminia Jauregui - age: 73
(April 25, 1941 to March 05, 2015 )
Resident of Exeter, California

Visitation Information:
Visitation will be held on Thursday, March 12, 2015 from 2:00 to 6:00 PM followed by an Evening Service at 6:00 pm at the Chapel. There will also be a Graveside Service on Friday, March 13, 2015 at 10:00 am at the Exeter District Cemetery.

Obituary:
Erminia ďMinnieĒ JŠuregui was born to Sauturnino Ortiz and Isabel Lopez in Santa Rosa TX on April 25, 1941. She passed away in her home on March 5, 2015 in Exeter, CA at the age of 73. Erminia liked to sing her gospel music, the church, her family, grandchildren and great grandchildren. She enjoyed her Cheerios and her avocado sandwiches, working in her garden and had a green thumb, so much that she could bring a dying plant back to life. Mom loved to tell old family stories and loved to laugh. She was well known for her Tamales, as many people would buy them from her. She was the voice of reason everyone came to her for advice. She was traditional in some ways but very progressive in many areas. She believed in womenís rights and independence. Mom was a very hard worker and was retired from both Lindsay Olive and Contadina. She is preceded in death by her parents and two sisters, Rosaura Guerrero and Guadalupe Wethington.
Minnie is survived by three daughters, Nancy JŠuregui and Sylvia JŠuregui both of Exeter and Anna Marie JŠuregui of Visalia; three grandchildren, Loren Ayarzagoitia of Exeter, Steven JŠuregui and Ciasha JŠuregui both of Visalia; four great grandchildren, Nathan Cruz of Visalia, Hannahbelle Van Allen of Exeter, Antwone Smith of Visalia and Maddison Allen of Exeter; five brothers, Alfredo Lopez of McAllen TX, Albert Lopez of San Antonio, TX, Ismael Lopez of Houston, TX, Richard Lopez of San Antonio TX and Hector Lopez of Beaumont TX; and two sister Nora Rosales and Elisa Flores both of Houston TX.





---




Cynthia Sarkesian

- March 11, 2015 Contact this person


My heart is grieved by Minnie's death. The world has lost a beautiful soul. She was like a second mother to me. She was always pleasant to be with, giving motherly advice and enjoying laughter and music. Minnie loved God and there is no doubt that she is in heaven now. Our family loved Minnie dearly and we will always cherish her memory. She and my mother, Beatriz Rios, were best of friends for over 50 years, talking on the phone for hours at a time on a daily basis. Our thoughts and prayers are with her family during this difficult time. Love, Cindy, Greg, Beatriz, Victor, Eddie, Krystal, Rachel, Bella, Bianca, and Natalie.




---




Lori Pasion-Gonzales

- March 12, 2015 Contact this person


I did not have the pleasure of knowing Minnie personally- I only got to witness her secondhand from her daughter Anna Marie. What an incredible woman of faith in action. I understand that she trusted the Lord completely in all things and therefore her faith was a legacy to her daughters. I look forward to meeting her and standing side by side with her praising our God in heaven! My prayers for those who love her dearly, especially my dear friend Anna Marie and her sisters. May you know the comfort of Jesus during this time and always.




---




Lydia Langbein

- March 12, 2015 Contact this person


To our beloved Prima Mine. We love you and will miss you. You were an major impactful influence in our lives by sharing your love, wisdom and knowledge. We thank God for you. Rest in peace our sister in Christ. Our condolences, thoughts and prayers are with Mine's beloved daughters and families. May God comfort you and grant you peace. Love, Lydia, Al, Paul, David, Samuel and Daniel and our families.




---