In Memoriam : Esperanza Garcia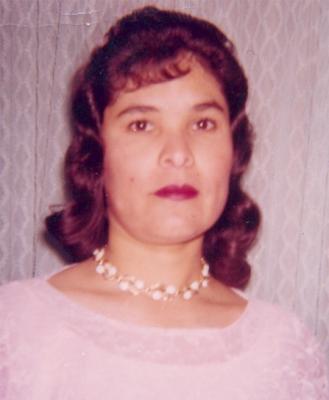 Esperanza G Garcia - age: 84
(September 01, 1931 to September 07, 2015 )
Resident of Woodlake, California

Visitation Information:
Visitation will be held on Sunday, September 13, 2015 at 5:00 pm at St. Francis Cabrini Catholic Church followed by the Rosary at 6:00 pm. Mass will be said on Monday, September 14, 2015 at 9:00 am at the church with burial to follow at the Woodlake District Cemetery.

Obituary:
Born Sep 1st 1931 in Redbanks CA passed away Sep 7th 2015 in Visalia CA. Survived by her husband Herman, two children Michael Garcia and Connie Garcia-Weinhardt, Grandchildren Jennifer, Janessa, Mikayla Garcia, Great grandchild Olivia Garcia, Sister Guadalupe Gomez Perez, Brothers Randy, Juan and Chuy Gomez, and numerous nieces and nephews. Esperanza Gomez Garcia lived the majority of her life in the Woodlake area where she met and married her husband Herman on April 20th 1963. She raised two children, enjoyed cooking, traveling, knitting and was an avid packer working for over 40 years in many of Tulare County's fruit packing houses. Her years after retirement were spent with the St Francis Cabrini church and helping care for her three grandchildren. One thing her family would like to be known about Esperanza was she loved her family with all of her heart. She will be missed dearly and never forgotten.