In Memoriam : Marguerite Busby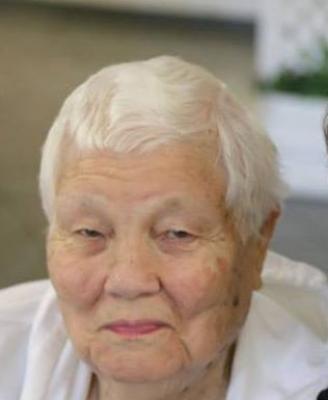 Marguerite Busby - age: 89
(November 03, 1925 to November 01, 2015 )
Resident of Exeter, California

Visitation Information:
Visitation will be held on Thursday, November 5, 2015 from 2:00 to 6:00 pm at Evans Miller Guinn Chapel. Graveside Services will be on Friday, November 6, 2015 at 2:00 pm at the Exeter District Cemetery.

Obituary:
Marguerite Busby of Exeter passed away Nov. 1, 2015, three days before her 90th birthday.
Marguerite was born Nov. 4, 1925 in Belleville, Arkansas. She moved out to California with her mother in June, 1953. She met her future husband, Herbert Busby at the Modesto Free Will Baptist Church on January 21, 1956. They married April 8, 1956. They had two daughters, Debbie born January 1957 and Diane born December 1957. Marguerite and Herbert served the Lord together in many churches in CA. Serving the Lord was a big part of their lives.
Marguerite and Herbert moved their family in February, 1971 to Exeter, CA. They both served in the Exeter Free Will Baptist Church until their deaths. Marguerite had a day care in her home for 20 years. She loved the children she cared for and they loved her too. She retired from her day care in 1991. She and Herbert traveled a lot during their retirement doing dealer trades for Monarch Ford. They both enjoyed traveling very much. Marguerite enjoyed taking an occasional trip to Morro Bay and Pismo Beach. Her greatest joy was serving her Lord Jesus Christ. At the time of her death, she was ready to go home to be with him. Marguerite will always be remembered as a wonderful wife, mom, sister, and aunt. She was also a great Christian influence to the friends and family in her life. Marguerite was preceded in death by her mother, Winnie Cutchall and her loving husband, Herbert Busby.
She is survived by her daughters, Debbie Busby of Exeter and Diane Whitney and Son-in-law Cary Whitney of Jerome, Idaho, one sister, Marie Carson of Modesto, one brother, Glen Cutchall of Modesto, two nephews, Ron Dudley and Dan Carson, and one niece, Davina Cutchall, and many other family and friends.





---




Ilene McLain

- November 5, 2015 Contact this person


Diane and Debbie, I am so sorry for the loss of your Mother. She is happy though, she is with your Dad. May God hold you in his loving arms and give you comfort. Ilene




---




Tony Garcia

- November 6, 2015 Contact this person


The best baby sitter anyone could ever ask for in the village. she would still say hi after all these years and wave it seemed like a lifetime ago , she babysat a lot of us neighborhood kids she will forever missed tony garcia




---