In Memoriam : Maria Reynoso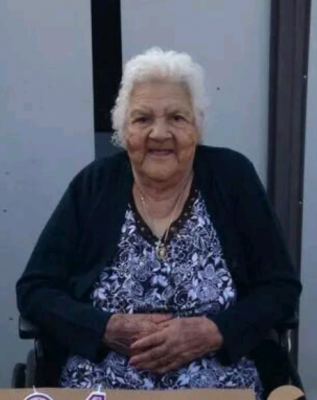 Maria Vasquez Reynoso - age: 95
(June 02, 1920 to November 20, 2015 )
Resident of Woodlake, California

Visitation Information:
Visitation will be held on Monday, November 23, 2015 at 4:00 pm followed by a Rosary at 6:00 PM at St. Frances Cabrini Church in Woodlake. Mass will be said on Tuesday, November 24, 2015 at 10:00 am at the church with burial following at the Woodlake District Cemetery.

Obituary:
In Loving Memory
Maria V. Reynoso
Born June 2, 1920
As we all know time has a way of creeping on us when we least expect it. Sometimes, time is on our side and other times it is against us. It evolves with us and grows with us. As for Maria her time had been a very pleasant one. She was able to deceive time and watch and grow with: 10 children, 49 grandchildren, 110 great grandchildren, and 8 great great grandchildren. Still having one living brother, Jose Vasquez, Maria was determined to run from this infamous ticking clock that was within reach of her. What one needs to understand about Maria Reynoso was that she was a determined woman. At the age of 95, Maria had a purpose in life, which was to care for her family and push through to the hardship that life had thrown at her. Even with so many curve balls she managed to do so much of her favorite things with her family. Such as: playing cards and the loteria in the evening. Go out and eat her favorite foods: hamburgers or enchiladas. Some of her best moments spent with her extended family were to visit Mexico every year. She even enjoyed the good old fashion scratchers. I want to say the most memorable part of Maria's adventure would be the casinos. If she was feeling a little under the weather and you asked her if she wanted to go . . . She was out of that door before you said mom.
She had this amazing sense of humor that took others by surprise. The things that came out of her mouth were astonishing. Yet, she had this tough interior that kept her family on their toes. She was also very headstrong. If Maria Reynoso said, "NO!! I will not eat that hamburger with cheese!!" You better believe she was NOT going to eat it. Of course where there is a headstrong individual there is love that is shown a bit differently. She no doubt loved her family but had her way of showing it. "Tough Love." Oh yes, she was the woman who showed you how much she loved you by pinching the cheeks. It was a trade mark of hers; One that will be missed.
Time will catch you at your best or worst. As W.H. Auden said in his poem, "As I Walked out One Evening", "Vaguely life leaks away/And Time will have his fancy/Tomorrow or today." Whether time has "his fancy" today or tomorrow our thoughts and memories of Maria V. Reynoso will evolve and grow with us as we continue her legacy; through our children and childrens children. Time will continue and so will she in our hearts and in our mind she will always be.





---




Mary Rodriguez

- November 22, 2015 Contact this person


My deepest condolences to all of the Reynoso family. She was a great woman and will always be remembered. Although we will not be able to be there with you during this difficult time, our thoughts and prayers are always with you.




---