In Memoriam : Myrl Harvey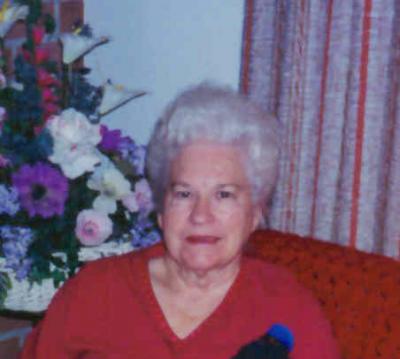 Myrl G. Harvey - age: 90
(March 17, 1925 to December 03, 2015 )
Resident of Visalia, California

Visitation Information:
Visitation will be held on Wednesday, November 9, 2015 at 1:00 PM followed by a Funeral Service at 2:00 PM at Evans Miller Guinn Chapel. Burial will be in the Exeter District Cemetery.

Obituary:
Mom passed away surrounded by loved ones on Thursday, December 3, 2015. Our Mother, Daughter, Sister, Grand Mother and Great Grandma loved to always work in her yard mowing, trimming and watering. She always helped family members when she could. Mom was born in Exeter and went to grammar school. She moved to Tulare and graduated from Tulare Union High School. "GO REDSKINS." She attended 4C's Business College in Fresno. Mom moved to Santa Cruz where she met the love of her life, "Bobby" and got married. Later they moved to Visalia where their three children were born. Mom is preceded in death by her husband Bob Harvey, son Steven Harvey and brother Wayne Elliston. She was of Christian Faith of Seventh day Adventist Church and had read her Bible thru 6 times. She loved to write letter to everyone all of the time.
Special thanks to her caregiver Tina Cristallo, her father Bob Ayers and Joe Hallmeyer for all their help and friendly Visits. Also thank you to the Kaweah Delta Hospice
She is survived by her daughters Jeanne (Josh) Blumenthal and Janis (Noble) Wilcox; her Sister Roxy Ross of PA; niece Karol (Ron) McGowan and nephew Tommy Ross; granddaughter Kellli Bartel and fiancé Steve Sweeney of Cayucos as well as many other nieces and nephews. She is also survived by grandson Dustin Bartel (Danelle) and great grandkids Destyny, Devyn and Dalyana Bartel of Littleton, CO. Love you and miss you, you will always in out hearts.