In Memoriam : Delores Hernandez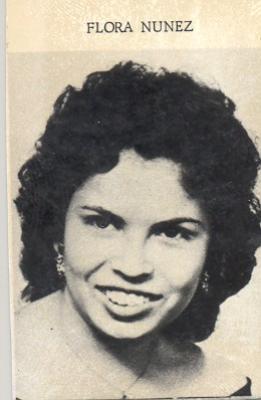 Delores Flora Hernandez - age: 67
(June 10, 1942 to December 31, 2009 )
Resident of Santa Margarita, California

Visitation Information:
The Rosary will be said on Thursday, January 7, 2010 at 6:00 PM at Evans Miller Guinn Chapel. Mass will be offered on Friday, January 8, 2010 at 10:00 AM at Sacred Heart Catholic Church in Exeter wit burial to follow in the Exeter Public Cemetery. Visitation will be held on Thursday from 2:00 to 6:00 PM.

Obituary:
Delores "Flora" Hernandez, 67, was born on June 21, 1942 and she passed away peacefully on Thursday, December 31, 2009. Flora was born to Gabriel and Mary Nunez of Exeter CA. Flora was a long time nurse. Helping others was her specialty and she did it with a passion. She enjoyed taking care of everyone around her. She had many hobbies such as crocheting, knitting and reading (she could never read enough books.) No matter what she was doing, it was always done with care.
Flora is preceded in death by her parents; Gabriel and Mary, and her daughter Margarita Hernandez. She is survived by her loving husband of 49 years, Ignacio Hernandez, her son's Abel (Gina) Hernandez, Johnny Hernandez, Abraham (Stephanie) Hernandez, Adam (Erica) Hernandez and her daughter Dee Dee (Chris) Pintor. She is also survived by her 12 grandchildren whom she loved and adored.

We are all missing our mom, grandma, wife and friend. She was and always will be "ONE OF A KIND." We love you Mom.