In Memoriam : Isabel Sapien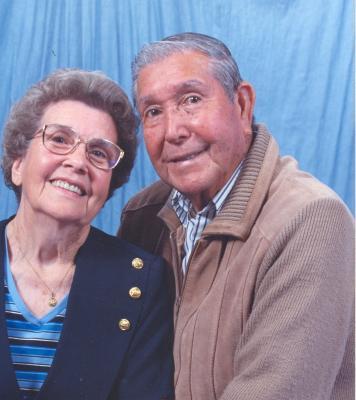 Isabel Sapien - age: 88
(December 29, 1927 to April 01, 2016 )
Resident of Farmersville, California

Visitation Information:
Funeral Services will be held on Friday, April 8, 2016 at 10:00 am Evans Miller Guinn Exeter Chapel at 425 Kaweah Avenue, Exeter, California, Graveside service to follow immediately.

Obituary:
Isabel Niz Sapien, 88 years old, of Farmersville California, passed away and went to be with her Lord and Savior on Thursday, April 1, 2016. She was born on November 29, 1927 in Delano, California and raised in Farmersville, CA. Isabel attended Snowden School in Farmersville and Redwood High School in Visalia, she was married to her childhood sweeheart since first grade Robert D. Sapien November 1950, and they were married 59 years. Isabel was a beauty operator for over 25 years in two salons in Exeter, California. She was adored by her long time patrons and she of them, they were her second family. Isabel was an amazing mother who was disciplined in her walk with the lord, dedicated as a prayer warrior for all her family and church family, she was an active member of the Farmersville Methodist Church and in her golden years a long time member of Evangel Assembly of God Church in Visalia. She was hard working and determined to raise her children with integrity and provide them a pathway to a solid education and continued that counsel with her grandchildren. Isabel is survived by her daughter, Dr. Rebecca Sapien-Melchor who serves as the Site Director of the Southern Area International Languages Network at San Diego State University, a California World Language Project under the auspice of Stanford University, her husband Jose M. Melchor, Retired School Administrator and son, Robert Edward Sapien Jr., an Airforce Veteran and retired Vocational Education High School Teacher, Visalia Unified School District and his wife Terri Sapien, Retired Farmersville Unified School Teacher, five grandchildren, eleven great grandchildren and two sister-in-laws Mary Niz and Mickey Torres. She was beloved by her family and friends.