In Memoriam : Thelma Venturella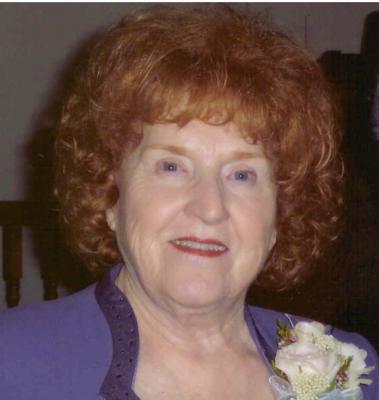 Thelma N. Venturella - age: 87
(May 05, 1929 to August 30, 2016 )
Resident of Exeter, California

Visitation Information:
Memorial services will be held this Tuesday at 6 p.m. at Calvary Worship Center 3890 S. Lovers Ln, Visalia, CA 93291. In lieu of flowers, reflections of love and gratitude for Thelma should be made to the Kaweah Delta Hospital Foundation.

Obituary:
On Tuesday afternoon, at the age of 87, in the comfort of her home and surrounded by her closest family, Thelma Venturella quietly and peacefully slipped from this earth and took her place in heaven among the angels. This world will miss her. Thelma lived a full and energetic life, brimming with unbounded generosity, profound wisdom, remarkable patience, deep strength, and unwavering faith. She was the living embodiment of love—a red-headed, strong-willed matriarch that left an indelible mark on this world.
She was a caring mother: she loved her son, Richard Grandquist (sp. Nancy), and daughter, Nancy Cripps, in the deepest way. She was always there for them, through decades of personal growth and life's most difficult challenges. And in the end, both were there for her, at her bedside, as she passed into the next life.
She was a proud grandmother: Her son Richard and Daughter Nancy gave her 7 grandkids. And those grandkids—along with her 19 great grandchildren—were the light of her life. For them, she was a role-model like no other. She lived life as it should be lived, full of warmth and forgiveness, unconditional generosity and joy. She taught them that they were special. That God loved them. That they could do anything they put their mind to. And also to treat people with respect and kindness. They carry those lessons with them day-in and day-out. And they carry a piece of her with them wherever they go.
She was an adoring companion. Thelma's path to true love was not a traditional one. It took her more than 40 years to find the love of her life, but she finally found him—on her very own ranch. Her love for Daniel Mendez was unabashed. She welcomed him into her family, and she loved Daniel's family as if they were her own. She and Daniel spent the best years of their lives together—they spent more than four decades together as friends and sweethearts on the ranch where they met. There, they walked together, laughed together, sang together, and loved together. And in the end, Daniel was there by her side to hold her hand and send her off into heaven with affection.
She was a generous friend: Thelma touched countless lives with her gifts of time, energy, spirit and financial support. She had a big heart and gave richly to her church, her friends and her community. Through most of her adult life, she helped to build a thriving construction business, Budget Homes, ran the Woodlake Outpost Restaurant, and served as proprietor of the Woodlake Airport. And through her success in business, she built better lives for everyone around her. Her financial gifts were often anonymous, and made with discretion and modesty. But the impact she left was unmistakable. She bought cars for people in need. Provided funding for childcare and college educations to kids that would not otherwise be able to afford them. Made mortgage payments for those who were struggling to make ends meet. Made Christmas possible to those who would otherwise have missed out. And she did it all quietly, lovingly, with very little fanfare.
She was a selfless philanthropist: Thelma gave generously of her time, volunteering at Kaweah Delta Hospital, where she served for 20 years as a member of the Guild. There, she served as President and Treasurer, chaired multiple committees, and volunteered at the information desk in the hospital's lobby. Through her work there, she developed a love for the hospital's mission. Her financial support can be seen up and down the halls of Kaweah Delta: she was a significant supporter of the campaign that built the lobby and the hospital's East Wing and pediatric unit and she provided landmark financial contributions to the hospital's Regional Heart Center and Di Vinci Surgical Robotics System. She served on the hospital's Foundation Board, and gave generously of her time to several of the hospital's capital campaign and various committees.
Thelma's modesty can be traced back to the most humble of upbringings. She was born in Des Moines, Iowa, to Milton C. Meeker and Elva Gray (Randolph) Meeker, and lived her earliest years with her 10 brothers and sisters in the height of the Great Depression. She moved to Long Beach, California in the early 1950's, and spent her last 45 years on a ranch full of orange and walnut trees, in Exeter, California. Her hobbies and interests were as unique as her: she loved travel, her beloved bears, all things Ronald Reagan, See's Candy, the color purple, quilts, and the music of Frank Sinatra. In her final years, Thelma bravely battled dementia, and was taken peacefully from this earth by complications from the disease. Heaven has, no doubt, received her with great fanfare as the angels welcome one of their own. There, she joins her brothers Bennie, Dolson, Dellas, and her sisters Vivian, Celia, Maurine, Beulah, and Shirley.