In Memoriam : Alice Castro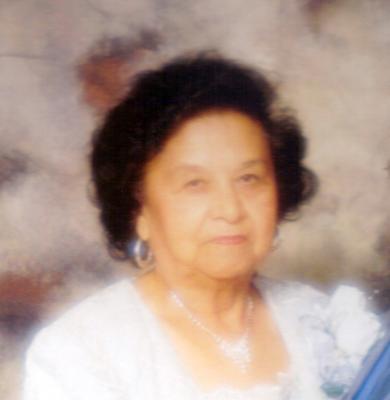 Alice Fernandez Castro - age: 84
(July 09, 1932 to September 14, 2016 )
Resident of Farmersville, California

Visitation Information:
Visitation will be held on Wednesday, September 21, 2016 from 2 – 6 p.m. with a recitation of the Rosary beginning at 6 p.m. at Evans Miller Guinn Chapel, 425 N. Kaweah Ave., Exeter. A mass will be held on Thursday, September 22, 2016 at 9 a.m. at Sacred Heart Catholic Church, 417 N. E St., Exeter, with interment following at Exeter District Cemetery.

Obituary:
Beloved wife, mother and grandmother entered eternal life on Wednesday, September 14, 2016. Alice was born in East Los Angeles to Julius and Frances Fernandez. She was preceded in death by her parents, daughters Olga Castro and Dolores Fernandez, and sister Virginia Paiz. Alice is survived by her husband of 61 years, Carlos Castro, sons Charlie (Cindy) Castro, Ralph (Debbie) Castro, daughter Elva (Rudy) Veloz, and son-in-law Daniel J. Fernandez, eight grandchildren and seven great grandchildren, four sisters and three bothers. Alice was a retired farm laborer and a 24-year cancer survivor. She loved crocheting, gardening, and raising parakeets but nothing was a higher priority than her babies; both grand and great. The Castro family would like to acknowledge and thank all those angels of mercy who cared for Alice both at Redwood Springs Health Care and Kaweah Delta District Hospital, with a special thanks to RN Sally at the KDDH Skilled Nursing Facility.