In Memoriam : Laura Bruner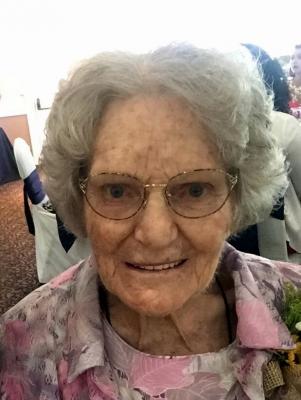 Laura Jane Bruner - age: 87
(January 17, 1929 to September 25, 2016 )
Resident of Visalia, California

Visitation Information:
Visitation will be held on Thursday, October 6, 2016 from 2:00 to 6:00 pm at the chapel. Funeral Services will be held on Friday, October 7, 2016 at 2:00 pm at Evans Miller Guinn Chapel followed by burial at the Exeter District Cemetery.

Obituary:
Laura Jane Bruner was born on January 17, 1929 in Pasadena, CA to Clifford and Thelma (Rupp) Cox. She passed away in Visalia, CA on September 25, 2016 at the age of 87. She attended schools in Southern California where she met Billy Ray Bruner. The couple married in Pasadena on August 20, 1952. The couple moved to the Visalia area in 1972 then to the Walnut Creek area living and working on Mt. Diablo for 19 years. They moved back to Visalia to the ranch in the Outside Creek area. Mr. Bruner passed away in 2009. She loved the cattle round ups and was interested in animal husbandry. She was involved with all of the kids animal project with the 4-H for many years.
Laura is survived by her sons, Clifton (Chris) Bruner of Gilroy and William (Dawna) Bruner of Hanford; her daughter Laura (Frank) Malmgren of Lindsay; Grandchildren Joshua (Miel), Jessica (Mike), Frank Jr., Michael (Melissa), Billy (Chrisma), Derrick (Amber), Heath (Jessica), Rachel (Tim), Christopher (Katie), Nikki, Michael (Kim), Savanah, Rebecca (Brandon), Samantha (Will); her great grandchildren Tammy, Alyssa, Patrick, Frank III, Jacob, Makiah, Maylanii, Sabella, Landon, Cameron, Tanner, Annabella, Olivia, Axel, Orion, Akira, Abbygail, Billy Jr., Einstein, Monique, Johanna, Mathew, Andy, Alexandria, JoJo, Abbygail, Megan, Joseph, Nick, Derrick Jr., Ali, Robbie, Keith Jr., and Alexie. She is also survived by her two dogs Lili and Bumper.


| | | |
| --- | --- | --- |
| | | Click to Enlarge |